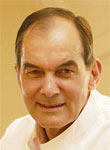 Professor George Birkmayer MD PhD
Ph.D. in Biochemistry, University of Vienna, Austria
M.D. from the University of Munich
Associate Professor for Cell Biology, University of Munich,
Research Fellow with Prof. Michael Bishop, Dept. Microbiology, UCSF
in 1976. Guest Lecturer at Universities in New York, Philadelphia, Montreal
Since 1982 Professor for Medical Chemistry, University of Graz, Austria
and Medical director of the Birkmayer Laboratories, Vienna, Austria.
Since 1989 he is a visiting Professor at the Universities of Beijing, Guangzhou and Xi'An(China). He is a Fellow of the American College of Nutrition and since 2005 President of the Int. Academy of Tumour Marker Oncology(IATMO), New York.
Professor George Birkmayer, M.D.,Ph.D, discovered the therapeutic effect of NADH (Coenzyme-1) and developed the stabilized orally absorbable form of NADH. Using this formulation he has treated thousands of patients suffering from Parkinson, Alzheimer, depression, CFS, cancer and diabetes. He is the author of more than 150 scientific publications and a member of the editorial board of a number of scientific journals.
2007 - COENZYME 1 (NADH): THE ONLY REAL FUEL FOR CELLULAR ENERGY WITH A SCIENTFICALLY PROVEN ANTI-AGING EFFECT.
Coenzyme-1 (N.A.D.H.) is one of the most important coenzyme catalyzing
more than a thousand of metabolic reactions in the human body, the most
important of which is the production of ATP (Adenosin-Tri-Phosphate)
The more ATP energy a cell has available the better it can function and
the longer it can live. The question is can we increase the ATP production
in the cells by exposing them to coenzyme-1 (NADH). The answer is yes, we can,
as has been shown on isolated heart cells. When hearts cells are incubated
with NADH a 30% increase in ATP production is observed (1). Due to this the
vitality and lifespan of these heart cells are increased. (
The same observation was made with red blood cells. This discovery has
Implications for the shelf life of blood donation and also for the extension of
preservation time of transplantable organs .
A patent for this effect of NADH is pending. This heart cell system allows to test
other coenzymes and substances for which an energy increasing effect has been claimed. From all the substances tested so far including NAD (the oxidized form of NADH), Nicotinamide (Vitamine B3), Coenzyme Q10, Creatine, Carnitine , Caffeine only
NADH does increase ATP production in these cells.
NADH as biological form of hydrogen is a very sensitive substance which degrades
rapidly even in dry state when blended with lactose the most common ingredient of
drugs. The author succeeded in stabilizing NADH and transposing it into a tablet form
in which NADH is stable for at least 2 years. This formulation, patented world-wide is commercially available under the brand name ENADA™.
Based on the patent protection of this product numerous GCP studies have been performed
in the U.S. as well as in Europe. In an FDA approved double-blind placebo controlled study
it was found that NADH leads to an improvement of certain cognitive functions in patients
with Alzheimer dementia. (2) . Another FDA approved double blind study with patients suffering from CFS (Chronic Fatigue Syndrome) revealed more than 80 % of the patients
were relieved from their fatigue after a 6 month treatment period with 10 mg NADH per day.
In a further study the effect of NADH on cognitive performance of healthy middle aged individuals after sleep deprivation for 24 hours was tested at Cornell University.
Subjects taking 20 mg of NADH did not only better in terms of cognitive performance than the placebo subjects but did more than 3 times better than the same subjects at base line,
after a full night sleep (3). In other words, NADH enhances cognitive performance in healthy individuals and due to its energy-increasing effect for the brain it may prevent MCI (Mild Cognitive Impairment) as well as Alzheimer dementia.
As most cancer cells exhibit an ATP deficiency and NADH can increase ATP energy in cells this coenzyme was given to cancer patients in an open label trial. 17 prostate cancer
patients with pathologically proven carcinoma have been cured in 3 to 5 months with a daily dose of 40 mg NADH. A number of patients with mammary carcinoma and
small cell lung cancer have been cured in between 6 months with the same daily dose
of NADH.(4) More than 6o cancer patients have been treated so far with NADH most of them are disease free or show no tumour progression. The increase in physical and mental energy was reported from all the cancer patients taking NADH.
The mechanism of action of NADH is based on the elevation of the intracellular ATP.
Hence NADH may be a reasonable approach for many ailments particular those based
on mitochondrial dysfunctions.

References:
(1) Pelzmann, B., et al., Brit.J.Pharm.2003, 139, 749-754
(2) Demarin, V. et al. Drugs Exptl. Clin. Res. 2004 ,XXX , 27-33
(3) Moline, ML. Et al. Abstr.1st Int. Conf. Mech. Action Nutraceuticals 2001
(4) Forsyth, L.M., et al. Ann.Allergy Asthma Immun. 1999, 82, 185-191
(5) Birkmayer, G., and Zhang, J. in Bagchi,D. and Preuss H.G. "Phytopharmaceuticals
in Cancer Chemoprevention , CRC Press 2005, 541-554