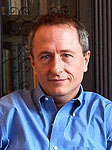 T. Michael Culp, MA, ND
Dr. T. Michael Culp is currently the Director and Chief Medical Officer of Integrative Health Solutions, Ltd, in London, England, an innovative multi-disciplinary medical clinic specializing in the treatment of chronic diseases. Dr. Culp received his medical degree from Bastyr University in Seattle, Washington, where he was appointed to the faculty to teach courses in medical nutrition and nutritional biochemistry. He practiced as a family practice GP for several years in Seattle before becoming the Director of Medical Education for Great Smokies Diagnostic Laboratory, in Asheville, NC, where he developed a number of innovative functional diagnostic laboratory tests and developed educational programmes for physicians world-wide. In his engaging lectures he combines a rare mixture of knowledge, wit, and wisdom. He serves as a medical consultant for a number of innovative healthcare companies in the UK, Europe, and the US.
2007 - Genomics and Optimal Diets
Specific genetic polymorphisms have been concentrated in populations over many generations because they conferred advantages for survival in an often hostile environment. Nutrigenomics is the idea that if we know the environment for which they are advantageous, then we can proactively modify our environment, including diet and lifestyle, to promote optimal gene expression, health and longevity. Choosing the wrong environment, diet, and lifestyle will accelerate the processes of ageing and degenerative diseases.
However, there is a great deal of conflicting and confusing data regarding the reliability of using nutrigenomics clinically, generally because sample sizes in studies have been too low and clinical intervention trials have been too short.
In this hour, Dr Culp will discuss the benefits of using genomic information for personalizing nutritional interventions in the long-term prevention and treatment of heart disease, senility, obesity, and cancer.