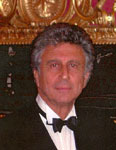 Ing. Luigi Alfonso Cuozzo
Ing.Luigi Alfonso Cuozzo is a Business Development Consultant for Anti-Ageing Medical Centres Worldwide, he is also a Consultant for International trading and industrial companies. He is a long-term expert in the management of health programmes within private clinics and healthcare institutes. He has substantial expertise in communications, marketing and finance within the healthcare sector.
2017 Lecture - Introducing ICT driven self-care into AA medicine paradigm.
How AA doctors can play a key role in the e-health scenario.
E-health , platform , App, IoT , self-care , personalized medicine, big data : an entire new vocabulary for understanding the very next future of AA medical practice to keep up with technology and scientific on going innovation.