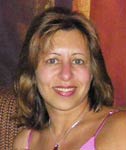 Dr Nilofer Farjo
Co-founded the Farjo Medical Centre with her husband, Dr Bessam Farjo, exclusively practicing hair restoration surgery and medicine in Manchester and London.
2007 - The Ageing Hairline: Current Techniques in Surgical Hair Restoration
Hair transplants have a come a long way since the days of plugs or punch grafts. The techniques have advanced to such a level that it can be argued that today's hair transplant surgery is a completely different proposition. State-of-the-art hair transplants nowadays involve thousands of grafts per session averaging 2 hairs per graft. Typically, around 6000 hairs are restored per procedure giving rise to the concept of 'one-pass surgey'.
We are helped in the battle to maintain hair and stabilize loss by medications such as Minoxidil and Finasteride. These have become valuable tools to help young sufferers or patients at an early stage of loss.
I will also give an overview about what the future holds in exciting areas such as hair cell multiplication therapy, signalling proteins in the skin and tissue growth factors.