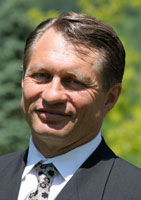 Dr Howard Fisher BSc BEd DC
Dr. Howard Fisher is on a mission to educate and enlighten the world about the toxic factors that exist in our environment and their direct relationship to our health. His current seminar entitled "The Invisible Threat" makes both professionals and the public aware of the omnipresent threat present in our immediate environment. Dr. Howard W. Fisher is the founder and senior clinician at the Glen Park Clinic. He has special interests in immunology and nutrition and this researching author acts as a consultant and educator for several multi-national nutritional companies. Dr. Fisher lectures internationally on nutrition, wellness, and immunology. He has written many articles for trade publications and is a featured guest on many radio broadcasts. In addition to authoring nine health oriented books, his research has also been published in peer-reviewed journals.
Being widely recognized for his ability to easily assimilate what many view as daunting scientific and clinical information, Dr. Fisher transforms essential knowledge that would otherwise remain inaccessible to the public into readily available life altering information. The foundation of his philosophy rests upon understanding and exposing the true nutritional and environmental deficiencies that exist in our everyday lives, and scouring the planet for the most efficient solutions to not only solving these threatening health issues, but improving the well-being and overall quality of life for everyone. His common sense approach to explaining the impact of our environmental factors to the health of the world makes it easy for his audience to make informed choices towards bettering their lives.
His ninth book, The Invisible Threat: The Risks Associated With EMFs is an easy to read clarion, written to inform an unsuspecting public about the devastating risks we face living in an electrical world that we cannot escape. His books and lectures have been translated into several languages and are sold in North America, Europe and Asia. His books and lectures have been translated into other languages and are sold in North America, Europe and Asia.
Dr. Fisher received his Bachelor of Science and Bachelor of Education degrees from the University of Toronto and his Doctor of Chiropractic, cum laude, from the Canadian Memorial Chiropractic College in 1983. He is licensed to practice in the Province of Ontario and the State of Michigan.
In addition to his clinical practice, writing and lecturing, Dr. Fisher is still an avid athlete who runs, plays coaches hockey, and can be found on the golf course most afternoons. A dynamic and colourful personality, Dr. Fisher resides in Toronto, Ontario with his wife and two children.
2007 - The Invisible Threat: The Risks Associated With Electro Magnetic Fields
Humans have been subjected to some form of magnetic field for all time but since the invention of AC current by Tesla in the 1880s this problem has exacerbated to the point that there are documented cases of physiological damage being done that affect aging and the health status of the population. A review of the literature reveals a relationship between genetic damage, cancer, leukaemia, neurodegenerative disorders, blood brain barrier linkage, and hormonal disruptions to serum levels of melatonin and cortisol and electromagnetic radiation. Both the problems and potentioal solutions will be discussed.