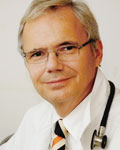 Docteur Christophe de Jaeger
Unité de Physiologie de la sénescence - Institut Européen de la Longévité, Paris, France
Christophe de JAEGER is one of the founder of anti aging medicine in Europe. He started his career as a geriatrician and he is actually professor of medical physiology and a specialist of evaluation and the management of ageing in Paris, France. He teaches at the international university MTU in Paris. He is the author of many articles and several books on aging management. He is also Founder President of the European Institute of Longevity and the French society of longevity physiology and medicine. Christophe de JAEGER is also the funder and redactor in chief of the international review Medicine and Longevity. He is an international speaker, and his works focuses actually principally on physiological age and management. He is the head of the Health and Longevity Department (Institut de Jaeger).
2013 - Aging Brain: Mechanisms and Evaluation
The brain has billions of neurons, each with an axon and many dendrites. To stay healthy, neurons and glia must communicate with each other, carry out metabolism, and repair themselves. Brain aging is a continual adaptation, with rearrangement or compensation of function at molecular, cellular, network and behavioral levels.
Aging is accompanied by cognitive decline in a major segment of the population and is the primary risk factor for Alzheimer's disease and other prevalent neurodegenerative disorders. It is remarkable that neurons are able to survive and function for a century or more in many persons that age successfully. Despite this central role in disease pathogenesis and morbidity, the aging of the brain has not been well understood at a molecular level. Multiple molecular, cellular, structural, and functional changes occur in the brain during aging, including neurodegeneration. Neural cells may respond to these changes adaptively, or they may succumb to neurodegenerative cascades that result in disorders such as Alzheimer's and Parkinson's diseases. Multiple mechanisms are employed to maintain the integrity of nerve cell circuits and to facilitate responses to environmental demands and promote recovery of function after injury. The mechanisms include production of neurotrophic factors and cytokines, expression of various cell survival-promoting proteins (e.g., protein chaperones, antioxidant enzymes, Bcl-2 and inhibitor of apoptosis proteins), preservation of genomic integrity by telomerase and DNA repair proteins, and mobilization of neural stem cells to replace damaged neurons and glia. The aging process challenges such neuroprotective and neurorestorative mechanisms. Genetic and environmental factors superimposed upon the aging process can determine whether brain aging is successful or unsuccessful. Mutations in genes that cause inherited forms of Alzheimer's disease (amyloid precursor protein and presenilins), Parkinson's disease (alpha-synuclein and Parkin), and trinucleotide repeat disorders (huntingtin, androgen receptor, ataxin, and others) overwhelm endogenous neuroprotective mechanisms; other genes, such as those encoding apolipoprotein E(4), have more subtle effects on brain aging. On the other hand, neuroprotective mechanisms can be bolstered by dietary (caloric restriction and folate and antioxidant supplementation) and behavioral (intellectual and physical activities) modifications. At the cellular and molecular levels, successful brain aging can be facilitated by activating a hormesis response in which neurons increase production of neurotrophic factors and stress proteins. Neural stem cells that reside in the adult brain are also responsive to environmental demands and appear capable of replacing lost or dysfunctional neurons and glial cells, perhaps even in the aging brain. The recent application of modern methods of molecular and cellular biology to the problem of brain aging is revealing a remarkable capacity within brain cells for adaptation to aging and resistance to disease.
We know that overeating and lack of exercise are risk factors for many different age-related diseases including cardiovascular disease, diabetes and cancers. Hormonal status is essential. Recent studies have shown that physical activity and also dietary restriction (reduced calorie intake) can increase the resistance of neurons in the brain to dysfunction and death in experimental models of Alzheimer's disease, Parkinson's disease, Huntington's disease and stroke. The mechanism underlying the beneficial effects of dietary restriction involves stimulation of the expression of 'stress proteins' and neurotrophic factors. The neurotrophic factors induced by dietary restriction may protect neurons by inducing the production of proteins that suppress oxyradical production, stabilize cellular calcium homeostasis and inhibit apoptotic biochemical cascades. Interestingly, dietary restriction also increases numbers of newly-generated neural cells in the adult brain suggesting that this dietary manipulation can increase the brain's capacity for plasticity and self-repair.
A better understanding of the molecular signaling mechanisms that permit such cell survival and synaptic plasticity may therefore lead to the development of new preventative and therapeutic strategies for age-related neurodegenerative disorders.