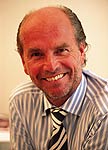 Dr. Michael Klentze MD PhD ABAAM
Medical Director, Klentze Institute of Anti-Aging, Munich, Germany.
Director A4M, USA
Secretary General ESAAM, Vienna
Dr. Michael Klentze received his medical degree from the University of Munich Medical School and is Board Certified in psychiatry and gynecology. He is Medical Director of Klentze Institute of Anti-Aging Medicine in Munich, Germany. An advisory member of the American Board of Anti-Aging Medicine for Europe, Dr. Klentze holds membership in the Endocrine Society (USA), the European Committee of Anti-Aging Medicine, the German Society of Gynecology and Obstetrics, and the European Menopause Society. He is the author of several scientific articles on aging-related topics including androgens in women, neurosteroids and the aging brain and vitamins and antioxidants.
2007 - Genetics of Skin Aging
Research shows that there are, in fact, two distinct types of aging. Aging caused by the genes we inherit is called intrinsic (internal) aging. The other type of aging is known as extrinsic (external) aging and is caused by environmental factors, such as exposure to the sun's rays.
Intrinsic aging, also known as the natural aging process, is a continuous process that normally begins in our mid-20s. Within the skin, collagen production slows, and elastin, the substance that enables skin to snap back into place, has a bit less spring. Dead skin cells do not shed as quickly and turnover of new skin cells may decrease slightly. While these changes usually begin in our 20s, the signs of intrinsic aging are typically not visible for decades.Genes control how quickly the normal aging process unfolds. Some notice those first gray hairs in their 20s; others do not see graying until their 40s. People with Werner's syndrome, a rare inherited condition that rapidly accelerates the normal aging process, usually appear elderly in their 30s. A number of extrinsic, or external, factors often act together with the normal aging process to prematurely age our skin. Most premature aging is caused by sun exposure. Other external factors that prematurely age our skin are repetitive facial expressions, gravity, sleeping positions, and smoking.

98% of all gnes are the same in the population, while we share 2% different genes with different gene expression, in which some of them determin the aging of the skin. This differences between individuals are called polymorphisms. This are single mostly base mutations of intron or exon parts of the genes, which affect the skin differently.
Understanding the molecular mechanisms that maintain health or generate chronic diseases , accelerated aging or skin aging will require new scientific strategies that account for genetic variation, environmental factors, and social and economic factors that may influence expression of genetic information.