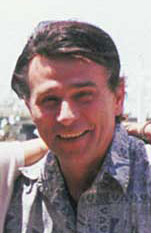 Dr Richard Lippman
PhD
Born December 18, 1944. In Stockholm, Sweden he attended Sveaplan Vuxen Gymnasium where he graduated with honors in all courses. Dr. Lippman attended Arizona State University and Cornell University, Ithaca, New York, and graduated with a Bachelor of Science degree in June, 1968. He was employed as a chemical researcher at the Royal Institute of Technology, Stockholm, Sweden. He attended medical school at Biomedicum, Uppsala, Sweden, where he specialized in measurement and monitoring of free radicals and their effects upon aging at the Departments of Histology and Medical Cell Biology.
Dr. Lippman is a member of the Swedish Medical Association. He has authored over 37 peer-reviewed scientific articles in leading gerontological journals such as Experimental Gerontology, Mechanisms of Ageing and Development, the Journal of Gerontology, and the Swedish journals, Forskning och Framsteg and Lškartidningen. In 1984, he invented the nicotine patch and successfully marketed it on the Univision from 1986 to 1989. He has lead clinical double-blind, cross-over investigations, especially in regard to transdermal Vitamin B12, weight loss, and melatonin patches. In 1985, he invented the first jet-lag kit employing the then unknown hormone, melatonin. In 1987, he was awarded numerous world patents for the special free-radical inhibitor, NDGA. This invention yielded the only patent ever awarded by the US Patent Office with claims to retard human aging. During the Ď80s, he invented two separate non-invasive methods that probe and monitor cascading free radicals in vivo in both humans and lab animals. In recognition of these last two revolutionary achievements, Dr. Lippman was nominated for the Noble Prize in Medicine in 1996.
Dr. Lippman is currently retired from practicing anti-aging medicine. In spite of semi-retirement, he continues to lecture and conduct anti-aging research.
2016 Lecture: Aldosterone and IGF-1, the Hearing Hormones
Researchers have discovered a hearing breakthrough thanks to the natural hormone aldosterone. With this new treatment, those with hearing loss caused by aging can enjoy increased sound volume and, more importantly, improved word recognition. As a result of their restored hearing and comprehension, those with hearing loss can become more sociable again without the need for hearing aids. Vasopressin is key to the architecture and function of the brain. Fourteen clinical studies attest to the fact that vasopressin supports long- and short-term memory, memory retrieval, and sound rapid-eye-movement (REM) quality of sleep. Vasopressin has even been successfully used to treat Alzheimerís patients for mild improvement in memory My research has uncovered IGF-1 plus HGH injections relieve back pain without the need for morphine-based drugs.

For those with hearing loss, aldosterone will improve sound volume and word recognition. For those with memory loss, bioidentical vasopressin will improve memory.