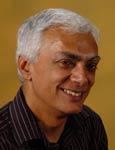 Dr Nick Mohindra
Nick Mohindra qualified as a dentist from Edinburgh in 1969. After gaining general dental experience at a number of practices in London he relocated to South Wales in 1973 to undertake a practice principal position. Dr. Mohindra remained at this practice until 1980 when an opportunity arose to become principal of a practice in Kent, which he successfully developed into a five dentist general dental practice.
During this period, Dr. Mohindra was also appointed vocational trainer and remained a trainer over a nine-year period.

In addition to this role, he lectured to postgraduate groups at the Kent and Canterbury Hospital and vocational trainees. Dr. Mohindra also lectured to postgraduate groups at Liverpool University and to BDA groups in the South East. In 2006 he presented a lecture at the ADI annual conference.

In the 1990's Dr. Mohindra developed an interest in TMD ( temperomandibular disorder) syndrome, which led him to working with and researching difficulties faced by edentulous patients, which in turn led to an interest in facial aesthetics. In 1999, Dr. Mohindra decided to leave general practice to concentrate his work in this field and to set up Added Dimension Dentistry in London, where he continues his work.
2007 - The Dental Facelift: Oralift Facial Rejuvenation.
In his talk Dr. Mohindra will discuss the results of his research published in the British Dental Journal and his continuing work in facial aesthetics. He will illustrate these with case histories and illustrate how dentists can deliver facial transformations by examining a number of cases he has treated over a number of years with his Dentalfacelift and Oralift techniques for both edentulous and dentate patients.