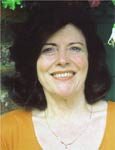 Dr Jean A. Monro MB BS LRPC FAAEM DIBEM MACOEM
Medical Director, Breakspear Hospital, England
Dr Jean Monro has a background in hospital general medicine and worked at the National Hospital for Nervous Diseases, Queen Square, London, researching migraine and multiple sclerosis. She entered full time practice in Environmental Medicine in 1982 and in 1988 established the Breakspear Hospital for Allergy and Environmental Medicine.
She has many publications to her name and regularly speaks at conferences worldwide. Her primary areas of interest are nutritional medicine and immunology, metabolic function and environmental medicine.
2007 - Detoxification: Regaining Lost Health.
At the moment there is huge emphasis on climate change and the fate of our planet. However, what is not considered is the impact of man-induced changes on the individual.
If we are to have a healthy, long lifespan, one needs to consider pollution of air, food, water, medicines, implants and indoor and outdoor pollution. Also important are the effects of pollution on individuals, how these can be measured in biochemical results and what can be done for restitution of health.