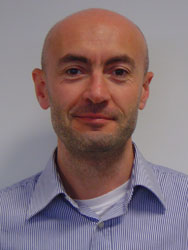 Ing Ezio Ostorero
Graduated in Engineering, Turin Polytechnic
Working as an IT professional since 1989, as a SW consultant, team leader and project manager for large multinational corporation (DEC, Compaq, HP).
Partner and founder of "Solve.IT SRL" since 2003, IT Consulting
Founder of "BBB SW & Systems" in 2012, SW design and System Integration
Partner and IT Manager of "Brainer SRL" since 2012, development of IT application for Cognitive Rehabilitation
Professional focus on: large/medium size SW project and System Integration for corporations; SW product development, design, architecture, development and deployment.


2012 - Multimedia, PC and Web-based Applications for Intellectual Stimulation.
The current Information Technology allows the implementation of multimedia, interactive applications for intellectual stimulation that, delivered by means of Web Platforms, can reach a wide population of patients, even at household level.
Since several decades, scientific research has proven that certain cognitive activities can, by means of neuronal plasticity, increase the number of cerebral neurons and their interconnections.
This fact has major sanitary implication upon several clinical classes of cognitive impairment, whether they be genetic or acquired, as well as impacts in terms of healthcare economy.
Until several years ago, cognitive stimulation techniques were limited to a small number of specialists, delivered by means of physical, paper/pen supports and requiring the one-to-one presence of a supporting tutor. The nature of these limitations were a major barrier in the mass distribution and diffusion capabilities of these sanitary methodologies.
The technological transfer from paperwork to computerized support of several cognitive "games" engendered a first, major, therapeutic revolution.
Multimedia capabilities, paired to non statical exercises features, physical barrier removal by replacing mouse/keyboard with touch-screen terminals, allowed for a fast diffusion of new therapeutic methodologies even with elderly or physically impaired people.
Personal Computers are now commonplace appliances in most medical premises, therefore allowing a vast population of subjects to undergo multimedia cognitive training.
The latest step has been the possibility to deliver the cognitive training remotely, over the Web. Widespread Personal Computer diffusion in households allows for capillary distribution of cognitive and other therapies, ubiquitously reaching patients directly at their homes. Furthermore, usage of Information technology in a client/server, web-based architecture, provides for easy integration and centralized data collection capabilities.
A central patient database collects training exercise feedbacks, recording/storicization of each patient progress along the therapy path and allows for statistical analysis and while guaranteeing at the same time privacy data protection.
At this point we have the capability to remote-install the cognitive therapy in remote or isolated communities implementing an effective, deep, territorial coverage.
Last but not least, there is the important possibility to exploit these web-based rehabilitating methodologies for cognitive treatment on last generation computerized mobile technologies devices such as handhelds, smartphones and tablet PCs.
With these price effective, consumer devices, we're confident in being able to overcome all residuals barriers in service distribution, seen as home-delivered telemedicine and patient health-monitoring.