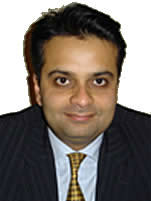 Mr Raj Ragoowansi
Raj Ragoowansi graduated in Medicine and Surgery from St Thomas' Hospital Medical School, London with the final year elective spent at Harvard Medical School, Boston, USA. He was awarded the Smith & Nephew Surgical Prize for a dissertation on 'Evolution of Sutures in Surgery'.

After completion of training in General Surgery and the Fellowship of the Royal College of Surgeons of England (FRCS), higher training in Plastic and Reconstructive Surgery was undertaken in London, East Grinstead and Chelmsford. This involved specialist exposure in reconstructive surgery of the breast, face, hands and trunk. International fellowships in Hand and Wrist surgery were undertaken in USA, France and India. Formal Aesthetic Surgery training was acquired at the Royal College of Surgeons approved institutions; Wellington Hospital and King Edward VII Hospital, London.

Awarded several research and clinical grants from the British Association of Plastic Surgeons and British Society for Surgery of the Hand to study the molecular mechanisms and treatment of abnormal scar formation . He has authored over 25 papers in peer reviewed Plastic and Hand Surgery journals and has been invited to lecture on the Aesthetic Surgery faculty for the University of London.

In addition to providing a reconstructive surgery service in hands (trauma, nerve compression, rheumatoid arthritis) and breast (post mastectomy reconstruction, congenital asymmetry), specialist areas of interest include body contouring for patients after extreme weight loss, chest wall reconstruction following coronary artery bypass surgery and management of problem scars.
A 'see and treat' clinic for skin lesions is provided within a multi-disciplinary set-up.

Specialist clinical interests:
Breast reshaping, facial and eyelid rejuvenation
Hand & Wrist nerve decompression, soft tissue and joint restoration
Non-surgical rejuvenation of the face and neck; dermal fillers, chemical peels
Management of problem scars
2007 - Chemical peels to treat the ageing face - combination strategies and contemporary techniques.
Treatment of photo-damaged skin forms plays an important role in management of the ageing face. The interplay of genetics with environmental factors is revisited together with contemporary strategies for skin rejuvenation. In particular, the role of chemical peels, solo and in combination with aesthetic surgery is discussed.