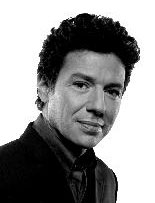 Oz Garcia, MS, PHD, a highly regarded nutritional counselor and life extension specialist is also the best selling author of The Balance and The Healthy HighTech Body, updated and released as Look and Feel Fabulous Forever (January, 2003). Both books are published by ReganBooks/HarperCollins. Voted best nutritionist by New York Magazine twice, Garcia lectures on the most current breakthroughs in therapeutic power foods and state of the art supplements and drugs to slow down the aging process and bring one to their highest health potential.

Oz Garcia is CEO of the successful health and well being consulting firm Personal Best Inc. and founder of The Longevity Lounge, a clinical destination for anti-aging and beautification services. In addition, Oz is officially launching his proprietary nutraceutical line in the spring of 2004, beginning with the product, Longevity Pak. The Longevity Pak is an antidote to premature aging. This powerful and innovative supplement pack, is taken once a day, to support youthful aging and to return your health to maximum efficiency. Please visit www.longevitypak.com for more information on the product.

Garcia has been spokesperson for companies such as: Glaceau Vitamin Water, Bath and Body Works, Hanes Sheer Energy, Travel and Leisure Fitness, in conjunction with American Express, Amino Vital in conjunction with Ajinomoto, Nutrophy, Phytomer Laboratories , Equinox Fitness Club International, Advantra and The Celebrity Diet on QVC, and Nature's Solution. Oz is also the head of health and nutritional services for The Equinox Fitness Clubs worldwide, consultant to the East Coast Alliance of Trainers (where he has worked and trained with more than 10,000 trainers over the past 10 years), Nutrophy Inc, and the world renowned Life Extension Foundation, whose CDRom coupon is included with his new book. Oz is also co-host of Success Radio, a motivational and inspirational talk radio show heard on WABC Radio (2003).

Oz is constantly consulted by some of the most respected names in medicine for his up to the minute views on nutrition and its role on human health. He has been a key speaker at many medical conferences including: AARP, in San Diego on anti-aging and longevity breakthroughs, The Icman Conference; The Future of Anti-aging in Vienna, 10x10 at Aspen Institute for New Medicine, Minimally Invasive Technologies: Medicine in the 21st Century at Presbyterian Hospital of Dallas, and Understanding Polycystic and Metabolic Disorder at Albert Einstein College of Medicine. As well, many top CEO's and celebrities, such as Hilary Swank, Kim Cattrall, Veronica Webb, Isaac Hayes, Chynna Philips, Tuesday Weld and Leonard Nimoy currently seek Oz in private nutritional guidance.