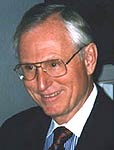 GARRY F. GORDON, MD, DO, MD (H), received his Doctor of Osteopathy in 1958 from the Chicago College of Osteopathy in Illinois. He received his honorary MD degree from the University of California Irvine in 1962 and completed his Radiology Residency from Mt. Zion in San Francisco, California in 1964. For many years, he was the Medical Director of Mineral Lab in Hayward, California, a leading laboratory for trace mineral analysis worldwide.

Dr. Gordon is on the Board of Homeopathic Medical Examiners for Arizona and is Co-Founder of the American College for Advancement in Medicine (ACAM). He is Founder/President of the International College of Advanced Longevity (ICALM) and Board Member of International Oxidative Medicine Association (IOMA). He is also a member of the Scientific Advisory Committee for The National Foundation for Alternative Medicine.

With Morton Walker, DPM, Dr. Gordon co-authored The Chelation Answer. In addition, he was the instructor and examiner for all chelation physicians. Currently he is an advisor to the American Board of Chelation Therapy and responsible for Peer Review for Chelation Therapy in the State of Arizona.

As an internationally recognized expert on chelation therapy, Dr. Gordon is now attempting to establish standards for the proper use of oral and intravenous chelation therapy as an adjunct therapy for all diseases. He lectures extensively on The End Of Bypass Surgery Is In Sight and The Future of Chelation.

Currently, Dr. Gordon is President of Gordon Research Institute and a full-time consultant for Longevity Plus, a nutritional supplement company located in Payson, Arizona. He is responsible for the design of the majority of their supplements, which are widely used by alternative health practitioners around the world. Dr. Gordon can be reached by phone or fax at Phone: (928) 472-4263, Fax: (928) 474-3819, or e-mail: ggordon@gordonresearch.com. For additional information visit his website www.gordonresearch.com.