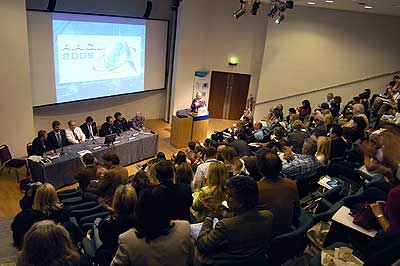 Remarks from many who attended the conference.
---
BRAVO!
What an incredibly well organised Conference.
In particular the content, the quality of the international speakers.
The attention to detail was very evident, so making this one of the best organised conferences I have attended. I very much look forward to the 3rd AACL in September, 2006
– Italy.
---
Excellent conference. Many thanks to Heather in particular for making it happen, and everyone involved.
– Dr David Curtin
---
Thanks for a fantastic conference.It was so well organised and we picked up some important knowledge and fantastic contacts.
-2005 Conference Speaker
---
Well done to the AACL team for the success of the Anti-ageing conference 2005. It is exciting to see and be a part of the marrying up of western medicine and CAM.
– Vanessa Tomlinson
---
Dear Heather, Maria and team organizers: I just would like to thank you all for the great conference you organised. The topics, the people the hospitality made it different from all the other ones. Heathers generosity makes it feel like a gathering with friends. Thank you so much again and good luck for the future.
Best wishes,
– Dr Cecila Tregear, Wimpole Skin Care.,
---
The Conference has set the highest standards for a scientific conference in the pioneering world of Anti-ageing. The most distinguished scientists sincerely committed to AA met for the second time in London laying the common undisputable ground for both the comprehensive research and professional offers of AA protocols. The enthusiasm that all scientists shared about having had such an opportunity is the most rewarding bio-marking of the excellence of both ideas and the organisation
– Rome, Italy.
---
The last Anti-Ageing Conference at the Royal College of Physicians was a great success. Many members of the British Society of Integrated Medicine attended the Conference, enjoyed it very much and learned a lot. We hope that the 'torch' of Anti-Ageing will continue to be lit in England and wish to thank you for your hard work. We hope to co-operate with you again in the future.
With best wishes.
Yours sincerely
Dr J N Kenyon
Founder President
British Society of Integrated Medicine
---