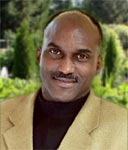 Dr Karriem H Ali MD
Dr. Karriem H. Ali, M.D. is the CSO of iPraxic.org, a foundation focused on Natural Product Immunotherapy and Longevity research and education. He holds degrees from Harvard (Chemistry, Organic-Medicinal), and Stanford (M.D.), earning Distinguished University Honors in Research as a Stanford-NIH Cancer Biology Fellow, and AHA Critical Cardiology-Immunology Research Fellow.
2008 - Strategic Immunotherapy in the Treatment and Prevention of Ageing-related Diseases & Disorders - Coronary Heart Disease, Metabolic Syndrome & Non Insulin-Dependent Diabetes Mellitus, Cancer
Fundamentally, humankind has long thought of aging as a gradual decline in one's well-being and quality of life, with an increased incidence and severity of debilitating chronic diseases. However, the present basic and medical science argues for a fresh and more enlightened perspective. Here, we present an evidence-based synthesis gleaned from our existent and ongoing laboratory and clinical research findings along with the existent knowledge in the field, to propose that:
Aging is a multifactorial clinical syndrome primarily resulting from progressive "Immunosenescence"—

Immunosenescence is an insidious process—typically of early onset and advancing with age in adulthood—which leads to autoimmune disorders and impaired immune responses to antigen exposure;
Immunosenescence also appears to be directly associated with the phenomenon of age-related telomere shortening, which is known to reduce cellular proliferative capacity in the immune system;

The use of Allotypic Immunomodulators (AIMs) to achieve a persistent reversal of immunosenescence may well be the simplest common denominator available for solving the healthful longevity equation;
The Strategic Immunotherapy approach suggests a novel and effective paradigm in the amelioration and treatment of aging and its related diseases & disorders
Goals & Objectives

To familiarize attendees with:
An understanding of Immunosenescence as a process which can produce a clinical picture consistent with what is accepted as Aging;
An understanding of prevalent factors in our patients and society as a whole —i.e., environment, dietary, lifestyle—that support the consideration of Immune Dysfunction as sufficiently ubiquitous to play a key causal role in Aging;
The Strategic Immunotherapy approach;
Clinical strategies in several diseases and disorders of aging, e.g. Coronary Heart Disease, Cancer, Metabolic Syndrome & NIDDM.