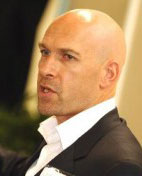 Mr Tim Bean
Executive Longevity™ Specialist and Transformational Speaker Tim Bean has spent the last 20 years at the top of the international health andwellness industry. He teaches and guides men and women in executive and leadership roles how to get back the stronger, dynamic and more energised physiques of their youth. It's what he calls, "The Hard Edge™".
Now known in London's social circles as "The Merciless Mr Bean", Tim's private clients include social high-flyers and A-list celebrities, and his corporate clients include seven of the world's ten biggest investment banks.
He recently co-hosted internationally acclaimed TV series "Turn Back Your Body Clock" (Celador) and co-wrote the best-selling book "Turn Back Your Age Clock" (Hamlyn).
He is a formidable thought-leader on optimal shape, health and wellness, and is widely regarded on the corporate events circuit for his entertaining, informative and challenging presentations.
His insights and experience now also help senior businessmen and women live and perform better for longer and, in doing so, raise their professional game.
Native from New Zealand, he now lives in the UK with his business partner, former National Physique Champion, wellness expert & author Anne Laing.
"Tim Bean is probably the world's most sought-after Physique Specialist." – Lorraine Kelly, ITV
2012 - Winning the Human Race - By Finishing Last
In this opening session Tim reveals the secrets behind his top 5 "Hard Edge Rules" in exercise, nutrition and longevity that could impact both your personal and professional life, including:
How Motor Racing could teach us more about optimising our mental wellness than any health or fitness magazine you'll ever read...
What the one, single strategy is that could prevent our modern lifestyles destroying your health, youth and physique.
Why the most important power-meal of the day ISN'T breakfast!
…And find out how one of the most impactful lessons on 'living better & stronger for longer' can be found buried within the pages of the Military Snipers Handbook…!
2012 - No Point Getting Old, & Acting Old Too
Building on the foundation laid in the opening address, Tim gets straight down to the nitty-gritty of exercise and nutrition in this fast-paced and content-rich session.
You'll come away with a deeper understanding of the most effective exercise practices, and the best nutrition protocols, to really optimise your energy, clarity and health, including:
What the 3 most effective exercises are you can do in the gym in less than 15 minutes.
The little-known Hard Edge Rule™ for effective training that even most Personal Trainers have no clue about, and how getting it wrong can actually make you fatter, faster!
How Calorie energy and Vitality energy differ,
Why simply 'not eating junk' isn't the same as 'eating healthy',
…and how a gentleman named 'Young Eric' showed me one of the most effective weapons EVER against growing old before your time....