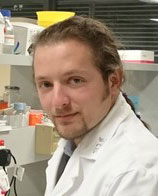 Dr Nady Braidy
Dr Braidy is an Australian Research Council Discovery Early Career Research Associate (2017-2020). He has previously been awarded the NHMRC Early Career Research Fellowship (2013-2016), and the Alzheimer's Australia Viertel Postdoctoral Research Fellowship (2012) at The University of New South Wales, Sydney.

Since his PhD was awarded (November 2011) he has over 97 peer reviewed publications (H index = 21), 6 book chapters, 2 books and 1 international patent, and he has presented orally at over 10 national and international conferences. Recently, he was one of 5 people to be awarded the Australian Academy of Science, Science and Industry Endowment Fund to represent Australia at the 64th Lindau Nobel Laureate Meeting in (29th June – 4th July 2014).

In 2012, he was awarded the International Investigator of the Year Award in Geriatric Psychoneuro-pharmacology for contribution to ageing and neurodegenerative diseases, and received the UNSW Faculty of Medicine Dean's Rising Star Award for Excellence in Postdoctoral Research. In addition, he received the Doerenkamp-Zbinden Prize in Pharmacology for the best performance in the UNSW pharmacology major.

His drive and technical skills have enabled him to perform sophisticated experimental work, and this has consistently produced publishable results throughout his PhD research career. In 2009, he received the Faculty of Medicine Dean's list award, which acknowledges his achievements as a young researcher. He also completed a Masters in Pharmacy whilst simultaneously publishing 7 first author papers during his PhD, and he has also completed a Diploma in Innovation Management, and was successfully awarded the Graduate Certificate in Research Management under the Commercialisation Training Scheme. These were the first experiences which linked both an academic, and industrial-based research career. Since completing his Honours Degree in Pharmacology and Physiology in 2007 (UNSW), his research has focused on sirtuins, a family of seven mammalian enzymes that controls cellular energetic and protects against numerous age- related diseases.

He has also studied small molecules which indirectly activate SIRT1 and recently identified a common mechanism by which all these molecules allosterically activate an NAD+-synthetic enzyme leading to increased NAD+ levels and higher SIRT1 activity. This work is the subject of an international patent which he is a co-inventor (No. PCT/AU2009/000255). In his honours project, he successfully discovered a novel small molecule activator of NAD+ synthesis and was the first to identify such a mechanism which has wide ranging therapeutic potential. This discovery is currently the subject of a patent application. His strong foundation in the laboratory has been pivotal in inspiring him to continue to be a high achiever in scientific research

Approximately 80% of his time is spent on research. The remaining 20% is spent on teaching and student supervision. In recognition of his sound expertise, he has been asked to co-supervise several honours and master students during his professional career. In his immediate research environment, he has chaired PhD student seminars, and coordinated afternoon teas for students to foster collaboration and develop a positive research culture. These initiatives and achievements demonstrate that he not only has the skills to perform at the highest level as a researcher, but also have the professional attributes and leadership skills to allow him to become a valuable member of the Australian and international scientific community.
2017 Lecture (1) - NAD+ Precursors as Therapeutic Agents for Age-related Degenerative Diseases
Significance: Nicotinamide adenine dinucleotide (NAD+) is an essential pyridine nucleotide that serves as an essential cofactor and substrate for a number of critical cellular processes involved in oxidative phosphorylation and ATP production, DNA repair, epigenetically modulated gene expression, intracellular calcium signalling and immunological functions. NAD+ depletion may occur in response to either excessive DNA damage due to free radical or UV attack, resulting in significant PARP activation and a high turnover and subsequent depletion of NAD+, and/or chronic immune activation and inflammatory cytokine production resulting in accelerated CD38 activity and decline in NAD+ levels. Recent studies have shown that enhancing NAD+ levels can profoundly reduce oxidative cell damage in catabolic tissue, including the brain. Therefore, promotion of intracellular NAD+ anabolism represents a promising therapeutic strategy for age-associated degenerative diseases in general, and is essential to the effective realisation of multiple benefits of healthy sirtuin activity. Recent Advances: In this presentation, we will describe and discuss recent insights regarding the efficacy and benefits of the NAD+ precursors, nicotinamide (NAM), nicotinic acid (NA), nicotinamide riboside (NR), and nicotinamide mononucleotide (NMN), in attenuating NAD+ decline in degenerative disease states and physiological ageing. Critical Issues: Results obtained in recent years have shown that NAD+ precursors can play important protective roles in several diseases. However, in some cases, these precursors may have varying differences in their ability to enhance NAD+ synthesis via their location in the NAD+ anabolic pathway. Moreover, formulation of these precursors represents an additional issue for consideration due to their poor stability and highly reactive nature. As well, increased synthesis of NAD+ promote protective cell responses, further demonstrating that NAD+ is a regulatory molecule associated with several biochemical pathways. Future Directions: In the next few years, the refinement of personalised therapy for the use of NAD+ precursors, allowing the administration of specific NAD+ precursors on the context of patients NAD+ levels will lead to a better understanding of the therapeutic role of NAD+ precursors in human diseases and ageing.
2017 Lecture (2) - Promotion of Cellular NAD+ Anabolism as a Strategy to Improve Cellular Senescence
Significance: Adequate cellular nicotinamide adenine dinucleotide (NAD+) levels promote DNA repair, activate sirtuin-linked deacetylation of histones and p53, promoting cellular metabolism and continuing viability. Recent Advances: In this presentation, We examined the effect of aging on intracellular NAD+ metabolism in different brain regions from young (3 months), middle aged (12 months) and older adults (24 months) female Wistar rats. Lipid peroxidation was measured using an antibody to 4-hydroxynonenal. Protein oxidation was measured using gas chromatography mass spectrometry. DNA damage, PARP and CD38 activities, and intracellular NAD and NADH levels were measured using well established colorimetric assays. Critical Issues: Our results are the first to show a significant decline in intracellular NAD+ levels and NAD:NADH ratio with ageing in the CNS, occurring in parallel to an increase in lipid peroxidation and protein oxidation (o- and m- tyrosine) and a decline in total antioxidant capacity. Hyperphosphorylation of H2AX levels was also observed together with increased PARP-1 expression, and CD38 activity, concomitantly with reduced NAD+ and ATP levels and SIRT1 function in the cortex, brainstem, hippocampus and cerebellum. Reduced activity of mitochondrial complex I-IV and impaired maximum mitochondrial respiration rate were also observed in the ageing rat brain. Among the multiple physiological pathways associated with NAD+ catabolism, our discovery of CD38 as the major regulator of cellular NAD+ levels in rat neurons indicates that CD38 is a promising therapeutic target for the treatment of age-related neurodegenerative diseases. Future Directions: Chronic oxidative stress can disrupt several physiological processes and lead to a decrease in the intracellular pool of NAD+ leading to impaired function of NAD+-dependent pathways including oxidative phosphorylation, and telomere attrition. Promotion of cellular NAD+ anabolism may therefore prove a promising pharmacological strategy to delay the onset of senescence in ageing and slow cognitive decline.