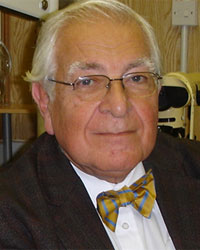 Professor Sydney J Bush DOpt (IOSc London) PhD
Head of Faculty of Optometry and CardioRetinometry®eec (Reg.US.Pat+) 'Hearteries' (Reg) Brand nutrients. Director World Institute of Optometry and CardioRetinometry®
2nd MB BS., Newcastle. Abandoned Medicine and Reverted to Optometry
1954 DOpt. Institute of Optical Science London
PhD.Honoris Causae. for Discovery of new science of
Nutritional Diagnostic CardioRetinometry® EU. (Reg. US Pat+) Cosmopolitan University 2004.
Snr. Research Scientist.North Chicago Veterans Affairs Medical Centre. USA.
Director UK Institute of CardioRetinometry® & former Canadian Institute of CardioRetinometry®
Distinguished Professor Optometry and CardioRetinometry
Cosmopolitan University. Mo. USA. (2008) Correspondence:
Prof@InstituteOfCardioRetinometry.ac
Registered CardioRetinometry ® EU (Reg US Pat+) Hearteries®
56yrs Optometry, 52 yrs in Contact lens practice.
Author of "700 Vitamin C Secrets and 1,000 Not So Secret For Doctors."
and contributor to imminent new book on Nutrition for Optometrists by
former University Chancellor, Prof. Dorie Erickson PhD (Nutr) PhD (Edu) CNC. MSc. MA.
2013 - CardioRetinometry - the slayer of Statins!
2013 - Does disappearing retinal arteriolar reflex signify life extension?
Has quantification of (cardiovascular) life extension been established? Has a golden pot of billions of years of priceless human life extension through Coronary Heart Disease (CHD) reversal been found? Do thousands of sequential photomicrographs of diminishing 'arteriolar light reflex' (ALR) show how Snell's Laws of Reflectance were quoted but misapplied by all previous researchers – with possible consequent loss of life? Contradicting what is currently taught, over half the patients (hundreds) testified to seeing their ALR reducing, shown as vanishing intraluminal plaque in retinal images. Thus encouraged, diet and lifestyle were taken more seriously. Michelson, Morganroth, Nichols & MacVaugh (1979) and Tedeschi-Reiner et al (2005) claim ALR is a reliable surrogate outcome predictor of coronary heart disease correlating with 98% sensitivity and 100% specificity within the limitations of X-ray Angiography. Addressing the ALR explanations of Brinchmann-Hansen et al., (1986) and Kaushik et. al (2006) CardioRetinometry demonstrates them to be impossible. CardioRetinometry provides unlimited repeatability and microscopic evaluation of statin efficacy and lipoprotein atherogenesis leaving no room for doubt. A paradigm shift in coronary cardiology appears inevitable. METHOD: Sequential retinal images of disc and adjacent vessels to 1st juxtapapillary bifurcation were precisely centred and magnified equally then flicker alternated, revealing the smallest increments of movement of the central artery of the retina (CAOR) nasally (nasal shift) to detect glaucoma vulnerability. A year after adopting electronic imaging and without movement, the appearance of the CAOR changed in a way that could only be explained by Pauling-Rath theory. More rapid flicker alternation showed microscopic changes well. Reversible plaque, was demonstrated to create 'reflex' predictably obeying Pauling Rath theory of haemodynamics and CHD suggesting the impossibility of ALR arising from the blood column (Brinchman-Hansen.) 'ALR' reduction was then found to be the norm with accepted lifestyle, diet and/or supplement changes. Those in denial of antioxidant value deteriorated. Every patient at every examination was advised to maximise their vitamin C and 200 gram packs were always available. RESULTS: Often, immediate reductions of neuro-retinal ischaemia, increased vessel diameter and blood flow; loss of 'ALR' and reduction of tortuosity. Stopping smoking, even in a dedicated vegetarian, produced dramatic retinal reperfusion. Physician patients claimed the effect equalled increasing life expectancy. CONCLUSION: This needs urgent research. The potential for postponement of CHD and fifty scurvy related diseases is vast. The photographic evidence for less atheroma after as long as 11-12 ½ years since 1998-1999 is totally irrefutable. The millions of photographs available in thousands of 'ordinary' Optometric practices showing "normal," gradual increase of atheroma, serve as random controls, adequately emphasising the uniqueness of behaviour of these blood vessels in a contact lens population dedicated to vitamin C for avoidance of eye infections. Our contact lens wearers are expected to outlive others?