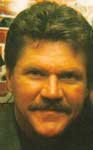 Dr John Crisler DO
President & Founder Allthingsmale, Lansing, MI
Dr. John Crisler is an Osteopathic Physician located in Lansing, MI. He has distinguished himself in the field of Anti-Aging Medicine by developing two new treatment protocols for Testosterone Replacement Therapy. Commanding a substantial Internet following, Dr. Crisler founded the first Internet Forum on HRT for men in the world moderated by a physician. He now enjoys training fellow physicians in this area of medicine, and is known as a dynamic and informative speaker. Dr. Crisler recently delivered the very first lecture ever on male hormone replacement therapy before the Michigan Osteopathic Association at their 2004 Annual Convention.
Preventing Cancer, Cardiovascular Disease, Osteoporosis, Dementia, Depression and Erectile Dysfunction, through TRT
This lecture will list the serious diseases associated to male Hypogoradisa. It then describes how to best administer TRT to either prevent or treat these diseases, including screening, cabs, medication choices and most importantly, the strategies behind TRT medicine. Includes will be Dr. Criscor's revolutionary new HCG Protocol.