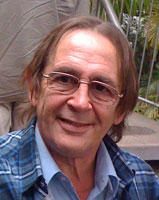 Dr Stephen Davies MA BM BCh FACN
Managing Director, Biolab.
Dr Stephen Davies received his degrees from Oxford University in Physiology (1970) and Medicine and Surgery (1973). He has been in Nutritional and Environmental Private Practice since 1977. He co-founded The British Society For Nutritional Medicine (BSNM) in 1984, now the British Society For Ecological Medicine, after amalgamating with The British Society of Allergy and Environmental Medicine in 1996. He owns, and co-founded in 1984, Biolab Medial Unit, London, an independent academic clinical research lab and clinic, measuring patients levels of essential and toxic elements, vitamins, essential fatty acids, antioxidants and a range of functional tests. He co-authored "Nutritional Medicine - The Drug Free Guide to Better Family Health" published by Pan Books in 1987. He co-founded The Journal of Nutritional & Environmental Medicine in 1989. He has presented his research in four continents.
"Age/sex related decreases in chromium levels, and increases in toxic metals in over 60,000 patients - implications for health and ageing"
"Age/sex related decreases in chromium levels in 40, 872 patients, and increases in toxic metals in 36,376 patients - implications for health and ageing."
Chromium: 51,665 hair, sweat and serum measurements of chromium levels using atomic absorption spectrophotometry are reported in 40,872 patients, referred by their physicians to Biolab Medical Unit, London, UK. Males were found to have significantly lower mean chromium levels than females (p<0.05 to 0.0001). There was good correlation between chromium levels in hair, sweat and serum (r = 0.536 to 0.729, p < 0.0001 for all correlations), indicating that hair and sweat chromium levels are valid additions to the serum levels in assessing chromium status. The influences that age-related decreases in chromium levels might have on increasing risk of developing impaired glucose metabolism, disordered lipid metabolism, coronary artery disease, arteriosclerosis, and type II diabetes are discussed, as well as the role that refined carbohydrates in the diet play in the development of compromised chromium status.
Toxic Metals: 187,686 measurements of five toxic metals are reported in 36,376 patients referred by their physicians. Elements were measured in hair: Aluminium (Al), Arsenic (As), Cadmium (Cd), Lead (Pb) and Mercury (Hg), sweat: (Al, Cd and Pb, +/- Hg), and/or whole blood: (Al, Cd, Pb and Hg), using atomic absorption spectrophotometry. Statistically significant age-related increases in all toxic metal levels measured were observed in all three tissues (p<0.0001) (except for female Hg blood and hair,p<0.001), with adult males having higher levels than females (p<0.0001). Correlation of measurements of the various toxic metals between the three tissues was strong (p<0.0001 for all tissues, except Hg in hair and sweat p<0.001). It is concluded that the age-related increases in toxic metals represent an accumulation of these toxic metals in the body, and it is hypothesised that exposure throughout life exceeds excretory capacity, as a result of there having been no evolutionary necessity to develop high capacity toxic metal excretory systems to function over a 75 year-plus life-span in industrialised society. The possible relevance of toxic metal accumulation to senescence and age-related morbidity and mortality is discussed.