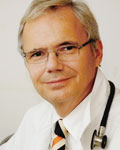 Professor Christophe de Jaeger
Unité de Physiologie de la sénescence - Institut Européen de la Longévité, Paris, France
Christophe de JAEGER is one of the founder of anti aging medicine in Europe. He started his career as a geriatrician and he is actually professor of medical physiology and a specialist of evaluation and the management of ageing in Paris, France. He teaches at the international university MTU in Paris. He is the author of many articles and several books on aging management. He is also Founder President of the European Institute of Longevity and the French society of longevity physiology and medicine. Christophe de JAEGER is also the funder and redactor in chief of the international review Medicine and Longevity. He is an international speaker, and his works focuses actually principally on physiological age and management. He is the head of the Health and Longevity Department (Institut de Jaeger).
2015 - The Impact of Weight on Longevity, Ideal Weight and Body Composition
The impact of weight on longevity is well known. Both body weight loss and weight gain are associated with significantly increased mortality from all causes except cancer. Despite much effort, obesity remains a significant and increasing public health problem. One of the real problems is to identify for each individual what is his real ideal weight.
One of the most common questions we are asked is "what should be my ideal weight?" But the real useful question is "what should be my ideal body composition?". To determine how much you should weigh (your ideal body weight) several factors should be considered as muscle-fat ratio, sex, bone density, metabolic status... Age should not be included in the determination of ideal weight.
Most of health professionals still suggest that calculating your Body Mass Index (BMI) is the best way to decide whether your body weight is ideal. BMI is a very simple measurement which does not take into account the person's waist, chest or hip measurements. BMI does not take into account your body composition. A person with severe osteoporosis (very low bone density) may have a lower BMI than somebody else of the same height who is healthy, but the person with osteoporosis will have a larger waist, more body fat and weak bones. Many experts criticize BMI as not generally useful in evaluation of health. It should not be used for individuals in health care. We think that calculating people's body fat percentage is the best way to gauge their fitness level because it is the only measurement that includes the body's true composition.
There are various ways of calculating a person's body fat percentage, but only one is the "Gold Standard" : the Dual energy X-ray absorptiometry (DXA). This technic will allow you to monitor with precision your body composition, while you are in a weight loss regime and / or in a muscle training program.
This conference will briefly explained the best way to find out whether your weight is ideal, and what your target should be to achieve a better health and longevity.