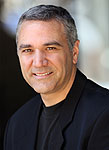 Professor Christian Drapeau
Christian Drapeau is a neurophysiologist with over fifteen years of research experience in the fields of natural foods and nutrition. He holds a Mater's degree from the Department of Neurology and Neurosurgery of the Montreal Neurological Institute, McGill University, in Montreal. Since 1995, his research has focused on the health benefits of the cyanophyta Aphanizomenon flos-aquae (AFA). His research led him to the field of stem cell research and in 2001 he authored the Stem Cell Theory of Renewal, describing how bone marrow stem cells constitute the natural renewal system of the body. Recently, his work on the effect of AFA on endogenous adult stem cells was published in the scientific literature. He is currently Chief Science Officer for STEMTech HealthSciences, Inc.
2008 - Natural Endogenous Stem Cell Release as a Primary Approach to Anti-Aging, Description of the First Natural Plant- Based Stem Cell Mobilizer.
Although we hear much about the therapeutic potential of embryonic stem cells, many recent studies indicate that adult stem cells offer greater promises. It is increasingly accepted that bone marrow stem cells constitute the natural renewal system of the body. When a tissue has a problem, it releases cytokines that travel to the bone marrow and trigger the release of stem cells from the bone marrow. The tissue then secretes other cytokines that attract stem cells to that tissue. Stem cells then migrate in the tissue, proliferate and differentiate into cells of that tissue, improving the functioning and overall health of the tissue. Many studies have shown that the number of circulating stem cells is a determinant factor in this process of regeneration. Recently, an aquatic botanical (Aphanizomenon flos-aquae; AFA) was shown to contain an L-selectin blocker. L-selectin is an adhesion molecule playing an important role in the residence of stem cells in the bone marrow. Consumption of an extract of AFA concentrating the L-selectin blocker was shown to increase the number of circulating stem cells by 25% within 1 hour. Daily mild stem cell mobilization has proven to be an effective tool in wellness and anti-aging medicine.