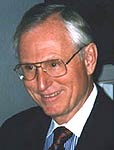 Garry F Gordon MD DO MD (H)
Dr. Gordon received his Doctor of Osteopathy in 1958 from the Chicago College of Osteopathy in Illinois. He received his honorary MD degree from the University of California Irvine in 1962 and completed his Radiology Residency from Mt. Zion in San Francisco, California in 1964. For many years, he was the Medical Director of Mineral Lab in Hayward, California, a leading laboratory for trace mineral analysis worldwide.

Dr. Gordon is on the Board of Homeopathic Medical Examiners for Arizona and is Co-Founder of the American College for Advancement in Medicine (ACAM). He is Founder/President of the International College of Advanced Longevity (ICALM) and Board Member of International Oxidative Medicine Association (IOMA). He is also a member of the Scientific Advisory Committee for The National Foundation for Alternative Medicine.

With Morton Walker, DPM, Dr. Gordon co-authored The Chelation Answer. In addition, he was the instructor and examiner for all chelation physicians. Currently he is an advisor to the American Board of Chelation Therapy and responsible for Peer Review for Chelation Therapy in the State of Arizona.

As an internationally recognized expert on chelation therapy, Dr. Gordon is now attempting to establish standards for the proper use of oral and intravenous chelation therapy as an adjunct therapy for all diseases. He lectures extensively on The End Of Bypass Surgery Is In Sight and The Future of Chelation.

Currently, Dr. Gordon is President of Gordon Research Institute and a full-time consultant for Longevity Plus, a nutritional supplement company located in Payson, Arizona. He is responsible for the design of the majority of their supplements, which are widely used by alternative health practitioners around the world. Dr. Gordon can be reached by phone or fax at Phone: (928) 472-4263, Fax: (928) 474-3819, or e-mail: ggordon@gordonresearch.com. For additional information visit his website www.gordonresearch.com.
2011 - Stemming the Tide of Cancer
I believe that there already is a cure for Cancer, yet our patients continue to lose the " War" on Cancer. What have I seen that others missed? This dreaded disease is rapidly becoming a manageable condition if caught before the LUMP or BUMP stage. There are specific proven steps that if followed concurrently, from lowering stress and simplifying the diet have reversed abnormal cancer, screening tests, when caught early, so I support some form of annual cancer testing. Cancer takes on average 7 years to become clinically detectible, and it is during those years that cancer is most amenable to reversing. Patients believe that they are living a healthy life style but all too often with today's increasing pollution and earth changes like the collapsing of the earth's electromagnetic field, patients are not able to keep cancer at bay as magnetism is essential for efficient metabolism. PEMF ( Pulsed Electromagnetic Field) Therapy has been documented to restore alkalinity to cells, which exponentially enhances cellutal oxygen utilization and ATP levels. This is another way like Hyperbaric Oxygen therapy of moving cells away from cancer inducing anaerobic conditions as first described by Warburg. With today's toxin levels, we also find most of us have some epigenetic changes in methylation that impair detoxification pathways so without advanced professional assistance, most patients are far too toxic and are not doing enough to stay Healthy as they need to learn to F.I.G.H.T. for their health on many levels concurrently if they hope to meet their (epi) genetic needs. New affordable genetic testing is available today to assist patients in optimizing their diet and supplement needs, testing 70 genes and supplying a written review of the finding at affordable prices
Today we have many choices but as the planet becomes more polluted, I believe that Detoxification efforts must be a major component of any successful Cancer Program.
Earth changes with our collapsing electromagnetic field, now at 1 % of historic levels, provides a opportunity to revisit The Warburg theory with the need to prevent anaerobic metabolism in cells by raising ATP with magnets to help maintaining cellular alkalinity. That increases tissue oxygen levels and provides another consideration in preventing or treating cancer using PEMF ( Pulsed Electro Magnetic Field ) Therapy.