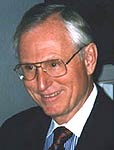 Garry F Gordon MD DO MD(H)
Dr. Gordon received his Doctor of Osteopathy in 1958 from the Chicago College of Osteopathy in Illinois. He received his honorary MD degree from the University of California Irvine in 1962 and completed his Radiology Residency from Mt. Zion in San Francisco, California in 1964. For many years, he was the Medical Director of Mineral Lab in Hayward, California, a leading laboratory for trace mineral analysis worldwide.

Dr. Gordon is on the Board of Homeopathic Medical Examiners for Arizona and is Co-Founder of the American College for Advancement in Medicine (ACAM). He is Founder/President of the International College of Advanced Longevity (ICALM) and Board Member of International Oxidative Medicine Association (IOMA). He is also a member of the Scientific Advisory Committee for The National Foundation for Alternative Medicine.

With Morton Walker, DPM, Dr. Gordon co-authored The Chelation Answer. In addition, he was the instructor and examiner for all chelation physicians. Currently he is an advisor to the American Board of Chelation Therapy and responsible for Peer Review for Chelation Therapy in the State of Arizona.

As an internationally recognized expert on chelation therapy, Dr. Gordon is now attempting to establish standards for the proper use of oral and intravenous chelation therapy as an adjunct therapy for all diseases. He lectures extensively on The End Of Bypass Surgery Is In Sight and The Future of Chelation.

Currently, Dr. Gordon is President of Gordon Research Institute and a full-time consultant for Longevity Plus, a nutritional supplement company located in Payson, Arizona. He is responsible for the design of the majority of their supplements, which are widely used by alternative health practitioners around the world. Dr. Gordon can be reached by phone or fax at Phone: (928) 472-4263, Fax: (928) 474-3819, or e-mail: ggordon@gordonresearch.com. For additional information visit his website www.gordonresearch.com.
2013 -
1) Energize the Brain – Heal the Body
Brain health and harmony is the first step to well being and longevity. The physical brain is made up of neurons, which are highly electrically sensitive cells. These cells need to be electrically or energetically stable, for balanced homeostasis and proper cell-to-cell communication – which also communicates with the rest of the body through the nervous, endocrine, and circulatory systems. The brain could be described as being like the hub of a wheel, with the nervous system serving as the spokes, and the body (bones, tissues and organs) composing the rim and tire. When the hub is out of balance, everything else suffers and breaks down. Energizing the brain with the use of pulsed electromagnetic frequency therapy, LED and low level lasers, along with proper diet, synergistic herbs and supplements, and a daily detoxification regimen – will restore energy balance, homeostasis and communication, and subsequently followed by balance and health in the body.
2) How Energy Medicine, Hydrogen and Lasers Can Save Your Life (Workshop)
With the decline of the Earth's natural, protective and "regenerative" electromagnetic field, and being bombarded daily with environmental pollutants, our bodies are simply overwhelmed! Our cells are overloaded with toxins and suffering from mitochondrial dysfunction – critical energy loss and acidity – conditions underlying all chronic illness and cancers. The combination of my F.I.G.H.T. For Your Health program, combined with powerful anti-oxidative, detoxifying supplements like Zeolite and hydrogen, and energy medicine therapies such as Pulsed Electro-Magnetic Frequencies (PEMF), and Low Level Laser Therapy (LLLT), has dramatically improved my own health, along with hundreds of other patients on my program – which has even reversed severe chronic conditions like heart disease and cancer.