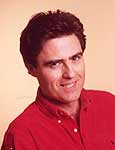 Dr Thierry Hertoghe MD
President (EAQUALL); Scientific Coordinator, Anti-Aging Medical Therapeutics of the University of Charleroi; Scientific Coordinator, International Anti-Aging Medical Specialization. Belgium
Dr. Thierry Hertoghe graduated with a medical degree at the Universite Catholique de Louvain in Belgium and has a specialization degree in General Medicine from the Universite Libre de Bruxelles. He becomes the fourth successive generation of physicians in his family. Dr. Hertoghe has done substantial work with hormone therapy and has traveled and lectured extensively. He is currently the President of (EAQUALL) the European Academy of Quality of Life and Longevity Medicine, and is a member of the International Advisory Board of the American Academy of Anti-Aging Medicine.
Treatment of partial cortisol deficiency, a major anti-aging therapy?
Cortisol deficiency occurs more frequently than often thought by physicians. Such deficiency may be severe enough to make the patient intolerant to medication and to impair the quality of life considerably. How to detect and treat this deficiency will be reviewed in this lecture, as well as the pathological consequences of not treating.