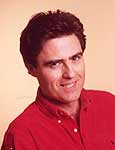 Dr Thierry Hertoghe MD
President (EAQUALL); Scientific Coordinator, Anti-Aging Medical Therapeutics of the University of Charleroi; Scientific Coordinator, International Anti-Aging Medical Specialization. Belgium
Dr. Thierry Hertoghe graduated with a medical degree at the Universite Catholique de Louvain in Belgium and has a specialization degree in General Medicine from the Universite Libre de Bruxelles. He becomes the fourth successive generation of physicians in his family. Dr. Hertoghe has done substantial work with hormone therapy and has traveled and lectured extensively. He is currently the President of (EAQUALL) the European Academy of Quality of Life and Longevity Medicine, and is a member of the International Advisory Board of the American Academy of Anti-Aging Medicine.
2009 - Oxytocin's potent effects on orgasm and warmheartedness
Oxytocin is a hormone secreted by the posterior pituitary gland. It is the hormone of orgasm. When orgasm occurs, high amounts of oxytocin are secreted.
When oxytocin is used as a treatment at sublingual, oral or subcutaneous doses of 5 to 10 IU per day, it stimulates orgasm in women, making women have their orgasm much quicker, after ten minutes for example, and then experience multiple orgasms relatively quickly in the time that follows. In men, oxytocin stimulates the strength and intensity of erections, while making ejaculation possible by stimulating the contraction of the muscular capsule that surrounds the prostate.
Furthermore, oxytocin stimulates attachment between lovers, making lovers have their partner 'under the skin', even creating 'romantic anxiety', the fear of losing the partner, at too high levels.
Safety of oxytocin appears to be high. It is generally cardioprotective. Possible side effects are reviewed with the scientific literature