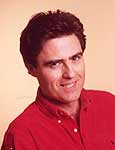 Dr Thierry Hertoghe
MD
President (EAQUALL); Scientific Coordinator, Anti-Aging Medical Therapeutics of the University of Charleroi; Scientific Coordinator, International Anti-Aging Medical Specialization. Belgium
Dr. Thierry Hertoghe, born in 1957, practices lifespan/pro-aging medicine and hormone therapy. He represents the fourth consecutive generation of physicians who have worked in the field of hormone therapy.
As a pioneer in many medical matters, Dr. Thierry Hertoghe has co-authored the concept that aging is mainly due to the progressive appearance of hormone deficiencies aggravated by nutritional deficiencies and a poor lifestyle. By correcting the hormone deficiencies and other important factors, fine tuning and personalizing the treatment to each patient, he has been successful in medical therapies – often beyond many patient's expectations.
Safety of the treatment is a major concern and implies tight and regular medical follow-up.
Dr. Thierry Hertoghe is the president of two important medical societies :
The World Society of Anti-Aging Medicine (WOSAAM), leading international anti-aging / lifespan scientific society for physicians (more than 7000 members).
The International Hormone Society (IHS), the third international hormone society with over than 2500 physicians from all over the world.
2014 Lecture: IGF-1 therapy: more potent than growth hormone to reverse aging ?
2014 Lecture: Vasopressin therapy: how far can it easily reverse wrinkles and improve memory ?
2014 Lecture: Reversing physical aging: Hormone therapies with on stage life consultations.