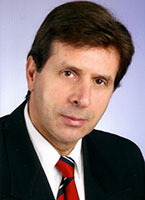 Prof. John G Ionescu PhD
Prof. Ionescu is Scientific Director and founder of the Special Clinic Neukirchen, Bio-Data and Energy Cosmetic companies, located in 93453 Neukirchen, Germany.
After graduation in biochemistry and immunology at the University of Bucharest, 1976 and a scientific fellowship in Montreal, Canada, he wandered to West-Germany and established there since 1980.
He received his PhD in medical biochemistry 1983 from the University of Saarbrücken, Germany, and directed until 1985 the research programme of a dermatological clinic in Aschaffenburg. Main research areas included the atopic diseases, psoriasis, arthritis and the MCS-syndrome.
Prof. Ionescu founded 1986 in Bavaria the Special Clinic Neukirchen for the treatment of allergic, skin and environmental diseases according to the principles of the nutritional and environmental medicine. The 160 bed facility is fully integrated in the official hospital system and the treatment fees are reimbursed by all German and Austrian health insurances.
The original diagnostic and therapeutic approaches of his cortisone-, cytostatic- and radiation-free concept have been reported in more than 140 scientific publications in Germany, Europe and USA. Current work involves the investigation of biological redox systems and free radical reactions in skin, environmental and cancer patients. His research results are subjects of new methods for the rapid free radical and redox potential assessment in human blood samples, new dermatological formulations for the diseased and aging skin, patented anti-cancer drugs and original integrative protocols for the treatment of MCS, CFS and chronic dermatoses.
Prof. Ionescu is member of the European Academy for Allergology and Clinical Immunology, of the British Society for Allergy and Environmental Medicine and of the American Academy of Environmental Medicine. As Scientific Director he is also active in the Board of the International Oxidative Medical Association (USA) and of the NRW Multiple Chemical Sensitivity Association (Germany).
Since August 1998 he was nominated as Professor for Clinical Biochemistry and Oxidology at the Capital University of Integrative Medicine, Washington, D.C. (USA). Prof. Ionescu is also member of the Editorial Board of the Journal of the Capital University of Integrative Medicine.
New Strategies to Slow Down the Photoaging of Human Skin
The photoaging process of the skin in the presence of natural sunlight or artificial UV-sources happens continuously and leads in time to dryness, deep wrinkles, sagging, lost of elasticity, mottled pigmentation and skin telangiectasia. Typical biomarkers include a strong generation of free radicals, lipid peroxidation, collagenase activation, glycation / oxidation of proteins (AGE products), activation of p53 transcription factors, low DNA repair capacity and cumulative DNA mutations.
Clinically, the adverse effects of natural sunlight and other UV-sources on normal human skin may vary from sunburn with erythema, oedema and DNA damage (12-24 hrs. after UV-exposure) to polymorphic light reaction (eczema solare), solar actinic elastosis and actinic hyperkeratosis (as common precancerous condition), up to different skin cancer forms like basal cell carcinoma (BCC), squamous cell carcinoma (SCC) or malignant melanoma (MM).
The study of the lipid, protein and DNA oxidative damage triggered by the free radical attack and subsequent sunlight exposure has conducted to appropriate strategies to slow down or block these reactions making possible the design of innovative skin care formulations.
In this respect, a new German photoaging defence formula (Solaris®) combines for the first time the double UVA + UVB protection (SPF 25) with melanin promoting aminoacids directly enhancing the natural tanning process. Free radical and metal blocking agents like Vit. E, carrot oil and EDTA, respectively, are preventing the sun exposure side-effects together with immune stimulating plant extracts (b-glucans) with anti-herpes virus activity.
To slow down the photoaging related wrinkle formation efficiently, a new collagen synthase stimulating formula (Energo® Repair Complex) provides a synergistic anti-aging combination of UV-light blockers, free radical quenchers (Vit. E, Coenzyme Q10) and collagen/ elastin synthesis promoters like hydroxyprolin and soy bioflavonoids. The active ingredients are incorporated in liposomes containing skin identical phospholipids and ceramides by means of the patented DMS® nanoparticle technology. A rapid uptake in the epidermis cells is thus granted.
The use of the described hypoallergenic topical products results in a significant improvement of the skin structure and appearance within 30 days, as documented with the standardized Surface Evaluation of Living Skin (SELS) methodology.

Goals & Objectives
Understanding the typical free radical related side-effects of natural and artificial UV-light exposure on human skin
Discussing the role of UV-induced metal mobilisation (Fe, Cu) in the photoaging process and appropriate interventions to slow down this process
Identifying the free radical induced lipid peroxidation and collagenase activation leading to collagen breakdown and wrinkle formation
Describing innovative procedures and formulas to counteract the described photoaging mechanisms and monitoring the therapy results by means of the standardized SELS methodology