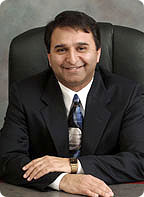 Dr Sanjay Kapur
Scientific Director at ZRT Laboratory
As Scientific Director at ZRT, Dr. Kapur is instrumental in establishing and directing various research projects for development of clinical laboratory tests. He also initiates scientific collaborations with national and international investigators interested in relevant areas of research.

Dr. Kapur received his Doctorate in Life Sciences from Post Graduate Institute of Medical Education and Research, Chandigarh, India in 1993 and his second Masters degree in Business Administration from Baker College in Flint, Michigan in 2005. He has extensive experience in biomedical research and has served in several lead positions directing studies involving development of novel assays and technologies in the areas of cytotoxicity and drug metabolism. He served as Research Scientist at CHUL Research Center, Quebec, Canada, and was involved in diabetes and obesity research. He has made significant contributions in developing several QSAR's while serving as Senior Research Scientist at Pomona College, Claremont, California where he led all research activities of the toxicology group. He has published several articles in the field of drug metabolism and signal transduction in peer reviewed national and international journals. He has strong interests in development of new testing methodologies and innovative laboratory procedures and conducts research into new applications of clinical laboratory testing at ZRT.

Sanjay enjoys festivities and likes to spread cheers and smiles in addition to spending quality time with his family.
2011 - Stress and Cardiovascular Disease: Is Cortisol the Key?
The role of cortisol as the "fight or flight" hormone and how it works to maximize the body's ability to respond to acute stress by stimulating processes that boost energy supply to muscles and suppressing non-essential body functions
Types of persistent stress, both emotional and physical, which contribute to maintaining high cortisol levels
Physiological effects of chronically high cortisol, including raised blood pressure, suppressed immune function, reduced sex hormone levels, reduced growth hormone, hyperglycemia, reduced bone density, increased clotting factors
Mechanisms by which reduced sex hormones and growth hormone, combined with hyperglycemia, lead to visceral fat deposits and insulin resistance
The path from visceral obesity and insulin resistance to diabetes, atherosclerosis and heart disease
Other types of heart disease, e.g. heart attack, as a result of increased clotting factors, due to high cortisol
Relaxation techniques and life changes that can be used to treat chronic stress and studies showing effects of these on cortisol levels
High cortisol levels can be seen as a result of some rare forms of cancer affecting the hypothalamic-pituitary axis, but most commonly they are a result of persistent emotional or physical stress. Whatever the cause, high cortisol induces sweeping changes in the body's chemistry that, under normal conditions, would prepare the body for "fight or flight". When stress conditions persist, these changes are sustained and start to affect long-term health. Reproductive and immune functions are suppressed, bone density decreases, and abdominal fat increases. Many of these changes lead ultimately to an increased risk of diabetes and cardiovascular disease. The problem of high cortisol levels is now a significant health problem in societies characterized by stressful lifestyles, and we could see a big impact on health as a result of the current economic crisis in many countries around the world. Treatment of stress can be an important part of reducing diabetes and cardiovascular disease risk.