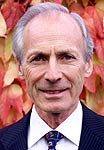 Dr Patrick Kingsley (MD)
Fellow of The American Academy of Environmental Medicine, Founder Member of the British Society of Allergy, Environmental and Nutritional Medicine, and the British Society of Integrated Medicine. His main clinical interests are Multiple Sclerosis and Cancer the natural way.
2008 - A Scientific Explanation For Diabetes Type II
There are many myths about the causes of diabetes type II which will be challenged. Glut 4 is essential for insulin to carry glucose into the muscle cell, but it is destroyed by TNF-alpha and other inflammatory cytokines, which also destroy LPL so that fatty acid reserves can also not be used to replenish the muscle cell. The result is a hungry person lacking in energy to do the exercise recommended by doctors. A common cause of the inflammation will be explained.