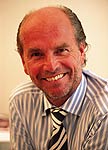 Dr. Michael Klentze MD PhD ABAAM
Medical Director, Klentze Institute of Anti-Aging, Munich, Germany.
Director A4M, USA
Secretary General ESAAM, Vienna
Dr. Michael Klentze received his medical degree from the University of Munich Medical School and is Board Certified in psychiatry and gynecology. He is Medical Director of Klentze Institute of Anti-Aging Medicine in Munich, Germany. An advisory member of the American Board of Anti-Aging Medicine for Europe, Dr. Klentze holds membership in the Endocrine Society (USA), the European Committee of Anti-Aging Medicine, the German Society of Gynecology and Obstetrics, and the European Menopause Society. He is the author of several scientific articles on aging-related topics including androgens in women, neurosteroids and the aging brain and vitamins and antioxidants.
2007 - TBA
PAST AACL CONFERENCES
2006 - Polymorphisms as tool for individual tailor customed Estrogen and Testosterone Repleacement - Therapy
This presentation displays the new and approach to an endocrinological treatment strategy, which should be 1. individual , 2. custom attracted and 3. secure. The great advances in medicine in the last years can realize this idea for the near future. Women ask more and more after a custom attracted and individualized HRT. We can observe a change of paradigm in nearly all medical subject areas. The standard of an individualized therapy for our patients requires more and more comprehensive epidemiological investigations , meta analyses and genetically analysis, which is especially supported by the detection of the human genome.