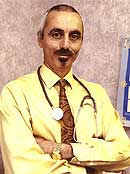 Dr Marios Kyriazis BA MD MSc DGM MIBiol CBiol
Gerontology from the King's College, University of London, as well as a postgraduate qualification in Geriatric Medicine, granted by the Royal College of Physicians. Chartered Biologist for work in the biology of aging. He is the founder and medical advisor to the British Longevity Society.
Multiple Methods to Maintain Brain Health and Prevent Age-related Brain Conditions (Including Dementia, Parkinson's, Age-related Memory Decline etc). Breakthrough Information on Drugs and Natural Remedies, Calorie Restriction-Mimetics, Anti-Glycosylators and Hormesis.
A comprehensive discussion of drugs, natural supplements, and lifestyle changes to help prevent or reduce the risk of age-related brain conditions. Novel agents such as calorie-restriction nimetics, antiglycosylators and unusual natural supplements will be presented, together with a brief discussion on hormesis (the notion that mild stimulation induces anti-ageing changes). The suggestion that a combination of brain and sense exercises together with a purposeful selection of drugs or supplements used against ageing, will be evaluated.