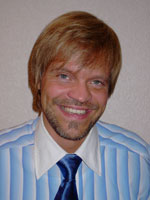 Dr Hansjörg Lammers DMD PhD
Dr. Hansjörg Lammers, DMD, PhD, Holistic Dentist for Environmental Medicine, studied holistic dentistry at the private university of Witten/Herdecke in Germany from 1985-1990. He is a practicing dentist with focus on environmental medicine, lecturer, author and a developer of nutraceuticals since 1991. Moreover he is the adviser of the medical society for comprehensive biological therapies at own international conferences since 9 years. Dr. Hansjörg Lammers is the head of the Anti-Aging- & Preventive Medicine-Department of several private clinics in Germany and the UAE.
In 1995 he founded the Institute for Integrative and Preventive Medicine (IIPM) in Germany for the support of detoxifying treatments in all chronically diseased patients. He is the medical and scientific director of the IIPM..
Publications: More than 80 papers, scientific articles and contributions to books in the last 9 years
Metal-Free Dentistry to Avoid Arteriosclerosis and Cancer
There are several important concepts regarding the initiation of arteriosclerosis. One of these is that arteriosclerosis results from the infiltration of the endothelial lining of the arteries with toxic heavy metals, like lead and mercury. The inner lining of the artery is the side where the important vasodilatator substance nitric oxide is created. The endothelium also produces prostacyclin which decreases clotting of blood and causes dilating of arteries. A third important substance is heparin, a potent substance that prevents clots from forming. Excessive deposition of heavy metals in the endothelium diminishes the endothelium`s ability to produce valuable nitric oxide, prostacyclin and heparin. Removal of these toxic metals restores the endothelium`s ability to produce these vital substances which stops and may even reverse arteriosclerosis.
Heavy Metals and Cancer
Metals can directly and indirectly damage DNA through free radical stress and that means an increased risk of cancer (=genotoxicity). There are also possible non-genotoxic pathways, due to irritation (changing of the cell-millieu) or immuno-toxicity.
Goals & Objectives at least 3 goals & objectives required
1. Get an update on the advantages of metal free crowns, bridges & implants (zirconiumdioxide)
2. Discussion in limiting and detoxification of a heavy metal load
3. Get highly informed on how to protect the body for a toxic burden (cumulative effects of
poisons)
View .pdf of Presentation here!