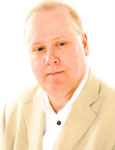 Phil Micans MS PharmB
Phil Micans has British qualifications in pharmacy, biochemistry and food and vitamin technology. Editor to the Antiaging Magazine, Chairman to the Monte Carlo Antiaging Congress and co-writer of the New Millennium Guide to Antiaging Medicine, he also maintains the position of Vice President at International Antiaging Systems.
Phil Micans studied Food & Vitamin Technology at South London College and afterward he completed an applied science bachelor's degree from Rochville in Pharmacy. He also holds a masters degree in biochemistry from the University of Canterbury.
Having been actively involved in the anti-aging field since the 1980's, Phil has held the positions of Editor-in-Chief of the Antiaging Magazine, Director of Research and Development to Inner-Age, co-writer of The New Millennium Guide to Antiaging Medicine and Chairman of the International Antiaging Congress.
He is also advisor to the British Longevity Society as well as the innovative bi-annual preventative medicine Stromboli conference, organised by Professor Walter Pierpaoli.
Phil realized that the information age has created a new generation of informed individuals and physicians who view things globally and want to obtain the best possible treatment based on a scientific perspective. As such, in 1991 he became a founding member of International Antiaging Systems (IAS), where he maintains the position of Vice President.
Phil has dedicated himself to studying the latest research about antiaging medicine and helping to make available innovative products to health professionals, as well as their patients who need them. Proud to be part of one of the world's leading organizations in antiaging medicine and keenly interested in the orthomolecular approach to medicine, Phil firmly believes that antiaging medicine is the ultimate form of preventative medicine, and that it will be the next major leap in the health of mankind.
2009 - A discussion about substances that have had a significant impact on the longevity of mammals: are there implications for humans
Antiageing medicine receives a lot of criticism from some within 'mainstream' medicine. In particular, they claim that our field does not measure or treat ageing as a whole, but rather 'just' individualised compartments of it. Some of this blame may be justifiable given the lack of references to the theories of ageing at many antiageing meetings. What this lecture attempts to do is try to address some of these criticisms and to present a brief background of the antiaging movement, as well as some of the leading theories of ageing. Some specific trial outcomes on mammals with the substances vasopressin, centrophenoxine, melatonin and deprenyl will be highlighted. As all of these substances have had significant impact in extending the lifespan of mammals, we shall also ask that most pertinent question, as to whether or not there are implications for humans using these same protocols- to also be able to extend their own longevity significantly.