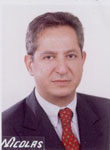 Dr Jean-Pierre NAIM MD
A graduate from the University of Brussels (Belgium),school of medicine, in 1980. Board certified in Family Medicine in 1984. He has been practicing Internal and Family Medicine in Belgium, Lebanon, France and Switzerland for the last 25 years. Currently, he is leading the medical service of an International Geneva-based specialised UN agency. Dr NAIM committed himself to complementary medicine since 1990. He earned many scientific prices and awards. He has incorporated nutrition and natural health techniques into his clinical practice. He published extensively in the medical litterature and has lectured around the world in particular, on longevity, anti-aging, cardio-vascular, neuro-degenerative diseases, nutrition, infectious diseases, environmental medicine, obesity, diabetes, and aesthetics. Dr NAIM is the founder and former president of the Swiss Academy of Anti-Aging Medicine SAAAM, a nonprofit association. At present, he is the head of the medical and scientific Board of SAAAM. He is member of several societies. He is a very well known International lecturer and wrote many papers in different medical magazines, mainly on Integrative and Orthomolecular medicine.
2008 - Orthomolecular approach in Preventing and Treating Cardio-Vascular Diseases

Cardiovascular diseases CVD are the leading cause of mortality worldwide.Traditional medicine failed so far to find credible solutions to this lethal condition,what is more alarming,is that the number of fatal cases of CVD is on the constant increase.Nearly 15 Million individuals died in 2005 in the world as a result of CVD,representing 29% of total mortality.


The Integrative and Orthomolecular approachs of CVD are including the followings:

-1) A comprehensive understanding of The Endothelial function,which is the basic knowledge and crucial in preventing and treating CVD.
-2)Wide explication of the mecanisms of ATHEROSCLEROSIS.
-3)What are the revised CVD RISK FACTORS .
-4)What do we mean by CARDIOVASCULAR POLYMORPHISM


Integrative cardiology is bases also on cell physiology and biochemistry.She address the mecanisms of energy production at the cellular level.
ATP and Krebbs cycle will be revisited in details during this lecture.

The Mitochondria is the cell energy powerhouse :
1-How NADH-COENZYME Q1 can boost the production of ATP ?
2-ROLE OF CO-Q-10 IN ENHANCING the mitochondrial function
3-What is the role of L-CARNITINE ?
4-kEY ROLE OF D-RIBOSE
5-MAGNESIUM.

Orthomolecular cardiology is addressing clinical aspects:

All about the POSTPRANDIAL HYPERLIPIDEMIA DISORDER-PPHD-


How to prevent and treat CVD :
-NIACIN
-TOCOPHEROLS AND TOCOTRIENOLS
-W-3 pufa
-Aspirin
-How to cool inflammation
-Vit K2
-Pomegranate
-DHEA
-Vit D
-ROLE OF AN ANTI-INFLAMMATORY DIET
-Resveratrol,dark chocolate , Green Tea and red wine
-SOD
-HOMOCYTEIN:the silent killer-How to keep it at bay ?