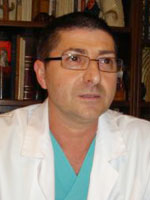 Dr Valerio Di Nicola MD PhD
Aurelia Hospital, Rome, Italy Consultant of the General Surgery and Emergency Department (DEA I) Interbion – Foundation for Basic Biomedical Research, Via San Gottardo 77 – 6596- Gordola, Switzerland

Dr. Valerio Di Nicola M.D. Ph.D, was born in Rome, and graduated in Medicine in 1989. From 1989 until 1997 he worked in Policlinico Umberto I in Rome first as an assistant during his General Surgery Residency and then during his PhD he worked in Microsurgery. In the next years he improved his skills in laparoscopic and Minimally Invasive procedures ( Fellowship of ACOI- Italian Surgeons Association-) and increased his knowledge in Coloproctology with a Fellowship in Oncological Colorectal Minimally Invasive and Open Surgery. Later he achieved a Master in the same field at the University 'La Sapienza'of Rome.
From 2006 to January 2010 he was Head of the General Surgery Department at San Marco Hospital in Latina, Italy. Currently he is a Consultant of the General Surgery Department at the Israelite Hospital of Rome.
In the last ten years parallel with his surgical activities he has been working on Regenerative Medicine, after having inherited these medical experiences and clinical research from his father.
Many scholars have lead in vitro and experimental studies about placenta, amnios and placental extracts as substances able to promote tissue regeneration. In the last 10 years he has developed in his own private clinic a new approach to stimulate and activate innate joint stem cells forming a favourable microenvironment in the area of articular degeneration apt to promote a tissue regeneration. In his Clinic, he has been studying and treating ultra-octogenarian patients always high surgical risk who have been non-responders to currently adopted conservative therapies.
He is author of 44 publications, and his studies in "joint self-repair" have been presented in the fifth Stromboli conference and in process of publication.
2013 - Biological baseline of Joint Self-repair procedure.
Gel-Repairer is a biomaterial composed by Polydeoxyribonucleotides, Hsps and a thickening substance. It works as a local mesenchymal stem cells (MSCs) stimulator, finally generating connective tissue renewal.
This research is within the field of regenerative medicine and has historically built its foundation from the studies carried out on non-vital amnios and placental membranes.
Our end point is the activation and stimulation of the local mesenchimal stem cells (MSCs) for the structural recovery of the joint involved in the degenerative process.
Since 2003 we have been applying the Gel Repairer over more of 1200 patients, most of them are elderly, affected by Degenerative Joint Disease (DJD). After 10 years of clinical experience the results are really impressive as well as the absence of toxicity, adverse reactions or side effects.
Our research came up to the point to present a clinical preliminary study performed on a large group of patients from 2003 to 2009 and recently published (1).
My lecture is aimed to look into the mechanism of action of the Joint Self-Repair procedure.
References
1) Di Nicola V, Di Nicola R. Self-Repair in Degenerative Joint Disease.Curr Aging Sci 2012. Vol 5, Issue n 3. PMID: 23330827 [PubMed].