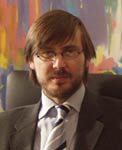 Professor Giovanni Scapagnini
MD PhD
Currently an Associate Professor of Clinical Biochemistry and Molecular Biology at Università of Molise, Italy. He was previously employed as an Assistant Professor at the Blanchette Rockefeller Neurosciences Institute, West Virginia University, Rockville, MD and at the Institute of Neurological Sciences, Italian National Research Council. He also worked as a Visiting Scientist at the NINDS, National Institute of Health, Bethesda, MD, and at the Northwick Park Institute for Medical Research, Harrow, UK. Since 2004, he is a Visiting Professor at the University of Maryland (IHV), Baltimore, MD. Dr. Scapagnini is a founder and member of the Board of Directors of the Italian Society of Nutraceuticals SINUT. His current work focuses on the functional roles of food phytochemicals as redox regulators of aging process.

Professor Scapagnini was born in Naples on 31/08/1966. He has graduated in 1992 at the School of Medicine and Surgery, University of Catania, and he has obtained a PhD in Neurobiology in 2000. Since completing his education, Dr. Scapagnini has conducted research with the Institute of Pharmacology associated with the University of Catania and has worked as a Visiting Scientist with Department of Surgical Research, Northwick Park Institute for Medical Research, Harrow, UK in 1999, and with Laboratory of Adaptive Systems, National Institute of Neurological Disorders and Stroke, National Institute of Health in Bethesda, MD, USA in 2000. Dr. Scapagnini has been Research Assistant Professor at the Blanchette Rockefeller Neurosciences Institute, West Virginia University at Johns Hopkins University, Rockville, MD from 2000 to 2003 and Research Assistant Professor at the Institute of Neurological Sciences, Italian National Research Council, from 2003 to 2006. From 2004 he has been Visiting professor at the Institute of Human Virology, University of Maryland, Baltimore, MD. Currently he hold an Academic positions as Associate Professor of Clinical Biochemistry, at the Faculty of Medicine, University of Molise, Campobasso. His fields of research regard biology and molecular mechanisms of ageing and neurodegenerative disorders, with particular focus on nutrient activated signaling pathways related to lifespan regulation.
2016 - Pre-Conference - The Anti Inflammatory Diet... The active components - chocolate, curcumin, blueberries, omega3.
Age related chronic diseases are driven by inflammation. Diet has been recognized as an important modifier of health status, promoting or reducing the possibilities to obtain a successful healthy ageing. This workshop will provide an overview on how functional components of diet can alter the expression of inflammatory genes and improves ability of organism's cells to adapt against environmental challenges. Clinical results on the reduction of inflammation following anti-inflammatory diets will be discussed as well as the molecular targets of anti-inflammatory nutrition. In particular, we will highlight; The importance of the balance between omega-6 and omega-3 fatty acids in terms of eicosanoid formation; The relevance of macronutrients in terms of physiological hormonal control; Caloric intake and inflammatory pathways regulation; The role of non-nutrients and food phytochemicals in the modulation of inflammatory response. About this last argument, we will discuss the anti-inflammatory role of food contained polyphenols, with a specific focus on cocoa epicatechins. Seeds from Theobroma cacao are the base for the production of the most important and widespread functional food in human history, chocolate. Both cocoa and chocolate consumption have been associated to a reduced risk of chronic diseases, and various health benefits of the cocoa compounds have been attributed to its antioxidant and anti-inflammatory potency. In particular, the bioactive constituents of cocoa components exhibit pharmacologic effects in reducing inflammatory processes. This is based on their ability to downregulate pro-inflammatory cytokines and their downstream biochemical pathways.
2016 - Lecture - Nutraceutical and Nutrigenomics: new perspectives for age-related diseases prevention
Giovanni Scapagnini, MD, PhD; Sergio Davinelli, PhD
Department of Medicine and Health Science, University of Molise, Campobasso (Italy)

Nutraceutical and Nutrigenomics: new perspectives for age-related diseases prevention
Ageing is a challenge for any living organism and human longevity is a complex phenotype. With increasing life expectancy, maintaining long-term health, functionality and well-being during ageing has become an essential goal. Healthy ageing involves the interaction between genes, the environment, and lifestyle factors, particularly diet. Indeed, the field of nutrigenomic research has received much attention due to its potential for preventing, and/or treating age-related diseases. Proper nutrition is a direct factor affecting well-being and health. Beyond the nutritional value, nutraceuticals and functional foods contain health-promoting components with specific beneficial effects on ageing. Diet-regulated genes play a crucial role in the onset and progression of several chronic disorders and dietary interventions can be used to mitigate these diseases but also to maintain health. The nutrient regulation of key genes involved in ageing may prevent oxidation and inflammation, reducing cellular damages to proteins, membranes, and mitochondria. In recent years there has been a growing interest, supported by a large number of experimental and epidemiological studies, about the beneficial effects of some commonly used food-derived products, including macro-and micronutrients and dietary. In particular, spices and herbs often contain active phenolic substances endowed with potent antioxidative and chemopreventive properties. All of these compounds appear to have a number of different molecular targets, impinging on several signaling pathways, and showing pleiotropic activity on cells and tissues. A possible general mechanism of polyphenols healing activity, relate to their ability to overexpress highly protective inducible genes, involved in the cellular stress response, and by these modulating oxi-inflammation at both cellular and organism level. Evidence is emerging to support the concept that alterations in mitochondrial biogenesis are linked to the development and progression of aging and metabolic diseases, including diabetes and obesity. Accordingly, signaling pathways involved in mitochondrial biogenesis, such as sirtuins, and transcription factors regulated by these proteins, are attractive targets for the prevention and early treatment of age related degenerative disorders. Recent in vivo studies have revealed that supplementation with resveratrol, a polyphenol contained in grape and peanuts, leads to increased mitochondrial activity trough activation of sirtuins and PGC-1α, a key factor for mitochondrial biogenesis. Resveratrol increases mitochondrial content, mitochondrial biogenesis, cellular mtDNA content and also protein expression of respiratory chain components in endothelial cells. SIRT1-mediated deacetylation of PGC-1α by resveratrol acts as regulator of mitochondrial energy balance and biogenesis. Resveratrol is a prototype of a new class of drugs referred to as caloric restriction mimetics, which are being developed to reverse organ pathologies associated with aging and metabolic diseases. Our research extends previous findings demonstrating that other phytochemicals, such as isoflavones, anthocyanins and carotenoids, can amplify resveratrol effects and induce higher levels of mitochondrial biogenesis in different types of cells. Increasing lines of evidence suggests that the activation of SIRT1 and induction of mitochondrial biogenesis, might be effective in intervention and prevention of several age related diseases, and particularly type 2 diabetes and obesity. Furthermore observations from our and other laboratories reveal a potential novel aspect in the mode of action of polyphenolic compounds. The ability to activate a physiological hormetic response in the cells, and the ultimate stimulation of cellular stress response genes, is likely to account for the established and powerful antioxidant/anti- inflammatory properties of these plant-derived compounds. We have previously demonstrated that curcumin, the yellow pigment of curry, strongly induces heme-oxygenase-1 (HO-1) expression and activity in different brain cells via the activation of heterodimers of NF-E2-related factors 2 (Nrf2)/antioxidant responsive element (ARE) pathway. Recent data from our group revealed that low concentrations of epigallocatechin-3-gallate, the major green tea catechin, induces HO-1 by ARE/Nrf2 pathway in hippocampal neurons, and by this induction, it is able to protect neurons against different models of oxidative damages. Furthermore, we have demonstrated that other phenolics, such as caffeic acid phenethyl ester and ethyl ferulate, are also able to protect neurons via HO-1 induction. We have recently demonstrated the in vivo ability of berries polyphenols and cocoa favanols to protect lipids from oxidative damages, via the activation of such pathways. These and other studies have begun to provide a basis for considering the use of polyphenols in the development of novel nutritional interventional strategies for health management and against specific age-associated diseases.