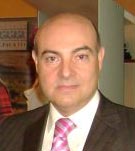 Dr Jose Márquez-Serres MD PhD
Dr. Márquez-Serres was born in Barcelona, Spain. He has received his M.D and PhD from the University of Seville, Spain. He is Board certified plastic reconstructive and aesthetic surgeon at University of Cayetano Heredia in Lima, Perú. Upon completion of his plastic surgical training, he completed an Inter-European Master degree in surgical and medical Laser at Barcelona University. Dr. Márquez-Serres was the founder and president of Centro Láser Quirúrgico Europeo. He belongs to the following societies: American Society of Plastic Surgery, member of honour of the French Society of Aesthetic Surgery, European Laser Association and he is President of the Spanish Society of Anti-aging and Longevity. He has given more than 100 conferences in Europe, USA and Latin America.
Over the past years Dr. Marquez-Serres has been featured in many radio and television programs and he has been interviewed by several newspapers
SEMAL President
FISMAL President
2007 - Botulinum Toxine (Botox), how to correct the complications and new indications.
Botulinic Toxin has been used for several years on the treatment of different pathologies. For instance in Ophthalmology has been used to treat blepharospasm and strabismus. In other specialties it's used for cervical dystonia, hemifacial spasm, etc. Other authors have used the Botox for the fore expression wrinkles. After our education in USA and 10 years of usage, we will transmit to you our knowledge on it.
Patients must be informed that there may be complications. The most common are oedema, erythema and ecchymosis which are transitory. Although is no habitual, some patients may feel slight pain in the injected area.
Sometimes the muscles are not symmetric, this is because we haven't injected the same doses of toxin in each side, or the injected points are not exactly opposite to each other. In those cases the effects may vary from one side to another. We will present the way of action for these cases.
The most common errors on the neck wrinkles application are: Disphony, Disphagy and Neck weakness. These complications may also occur when the toxin is injected outside the muscular mass of the pletisma or when overdose exist. Fortunately, all these effects are transitory.
On this communication we will analyze on detail all the aspects of a treatment with Botulinum Toxin, and the correction of any complication.