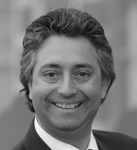 Dr Rajendra Sharma MB, BCh, BAO, LRCP+S (I), MFHom
Dr Rajendra Sharma MB, BCh, BAO, LRCP+S (I), MFHom is the Medical Director of The Diagnostic Clinic, London. He ran the largest body of Complementary medical practitioners whilst the Medical Director of the world renowned Hale Clinic and is the author of the Family Encyclopaedia of Health (Thorsons).
The Diagnostic Clinic specialises in the integration of orthodox, traditional and pioneering diagnostic techniques as well as providing protocols for all medical conditions integrating both orthodox and CAM medicine. The Diagnostic Clinic is one of the pioneering centres for Optimum Ageing and works closely with many of the leading laboratories and centres around the world in providing anti-ageing and optimum performance screens and protocols. Dr Sharma's 22 years of experience in Integrated Medicine following a swift exit from the NHS has allowed him to practice in Europe and the United States where he ran a clinic in Baltimore between 1986 – 1994. Dr Sharma had a longstanding radio slot with BBC Radio and is a frequent expert for TV health issues. He has been printed in most national newspapers and numerous magazines. He is a major shareholder and contributor to a West End theatre production company and is happily married to Emily as they beat their path through parenthood of Liam, Madeleine and Bryony.
2008 - Vitamins? Friend or Foe.
The Natural Food State Option
Following mirrored if not identical papers in the Journal of the American Medical Association February 2007 and the Cochrane Library in April 2008, medical journalists and the public are being introduced to the Dark Side of vitamin and mineral supplementation. Dr Rajendra Sharma, assesses the situation with a balanced approach pointing out the truisms in the dangers of pharmaceutical grade vitamins as well as the absolute necessity, in his opinion, of the use of high dose vitamin and mineral supplements in today's world. The presentation will illustrate the association of vitamins and minerals with anti-ageing, disease process and also illustrate the levels of deficiency in our soil and food. The talk will discuss practical prescribing options and touch upon nutritional analytical techniques.