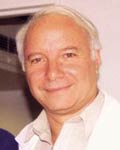 Prof Shimon Slavin
Head, Department of Bone Marrow Transplantation and Cancer Immunotherapy Hadassah University Hospital Ein-Karem, Jerusalem Prof. Shimon Slavin is a renowned international leader in stem cell transplantation (SCT), cancer immunotherapy and transplantation biology. Chairman of Israel's National Bone Marrow Transplantation Center. In addition, he has been the director of the Baxter-Hadassah Research Center, director of The Danny Cunniff Leukemia Research Laboratory and since 2001 has served as Medical Director of Cancer Immunotherapy at Cancer Treatment Centers of America (CTCA). His contributions include a new series of proprietary procedures and therapeutic tools for ultimate treatment of an otherwise incurable broad spectrum of malignant and non-malignant diseases.
External Academic Positions Visiting Prof.: Univ. of Minn.; Univ. of Texas at Dallas. Univ. of Singapore. Memberships and Fellowships: Amer. Immunological Soc.; Int'l Transplantation Soc.; Amer. Federation of Clinical Res.; Int'l Soc. for Experimental Hematology; Int'l Gnobotic Soc.; Amer. Soc. of Hematology; Amer. Rheumatism Assn.; Isr. Med. Soc.; Isr. Immunology Soc.; Isr. Soc. for Allergy and Clinical Immunology Research Interests Bone marrow transplantation (BMT); mechanisms and induction of transplantation tolerance; new approaches to leukemia and solid tumor therapy focusing on cell and cytokine-mediated immunotherapy in experimental animals and man; hematopoiesis and enhancement of hematopoietic reconstitution by cytokines and new growth factors. Treatment and mechanisms of autoimmune diseases in experimental animals and man.
2013 - Cellular therapy for treatment of life-threatening malignant and non-malignant disorders lymphocytes
Activation of autologous lymphocytes can provide an effective treatment of patients with cancer at the stage of minimal residual disease. More effective immunotherapy can be accomplished using short-acting alloreactive donor lymphocytes or even better following allogeneic stem cell transplantation (SCT) with fully matched or haploidentically mismatched donors followed by donor lymphocyte infusion (DLI). Such treatment can eliminate malignant cells fully resistant to all available anti-cancer modalities. We have documented that transient engraftment of intentionally mismatched rIL-2 activated donor lymphocytes can eliminate minimal residual disease while anticipated rejection prevents development of graft-vs-host disease (GVHD). The selectivity and specificity of anti-cancer immunotherapy mediated by alloreactive lymphocytes can be improved by targeting killer cells with monoclonal and bispecific antibodies against over-expressed tumor-associated antigens. Such interaction may also result in long-lasting anti-cancer immunity because Fc may also bind to DCs, thus inducing autologous anti-cancer immunotherapy. Similarly, we hypothesize that more effective graft-vs-malignancy effects may be accomplished by durable engraftment of donor lymphocytes following haploidentical stem cell transplantation available for all patients in need. Since the therapeutic benefits of SCT from fully matched related or unrelated donors is limited, and considering the risks of unavoidable GVHD and the negative effects of prophylactic or therapeutic immunosuppressive agents needed to prevent or control GVHD, we have studied two treatment strategies: [1] the feasibility and safety of immunotherapy of minimal residual disease mediated by short-lived intentionally mismatched rIL-2 activated killer lymphocytes (IMAK) with no prior SCT; [2] the feasibility of haploidentically mismatched SCT following reduced intensity conditioning with in vivo depletion of anti-host and anti-donor alloreactive T cells, followed by cell therapy with donor derived IL-2 activated CD3-depleted or CD56-selected NK or NKT cells, respectively, while avoiding GVHD using no post transplant anti-GVHD prophylaxis. We are currently trying to maximize immunotherapy by additional activation of macrophages and NKT cells on the one hand, while trying to suppress regulatory T cells in an attempt to recruit the entire cell-mediate immune system for optimal anti-cancer immunotherapy.

On the other end of the spectrum, since prevention of anti-host reactivity can be accomplished by T cell depletion, we can use autologous stem cell reconstitution following depletion of lymphocytes, autoreactive lymphocytes included, for treatment of autoimmune diseases by induction of self tolerance by the newly established immune system following central clonal deletion of self-reactive lymphocytes. Taken together, cellular therapy by multi-potent hematopoietic stem cells and immune regulation by lymphocytes may represent the treatment of choice for a broad spectrum of life threatening malignant and non-malignant disorders.
2013 - Cellular therapy with unmodified and differentiated multi-potent autologous and allogeneic mesenchymal stromal cells (MSC) for treatment of neurodegenerative and neuroinflammatory disorders.
No specifc treatment exists for primary or secondary progressive multiple sclerosis (MS), amyotrophic lateral sclerosis (ALS) and a long lisr of neuroinflammatory and neurodegenerative disorders. Future treatment of MS aims at down-regulation of anti-self reactivity, preferably re- induction of self tolerance, and restoring myelination and neurological functions. Treatment of neurodegenerative disorders is based on regeneration of the damaged central nervous system, preferably by cellular therapy. Mesenchymal stromal stem cells (MSC) are known to be anti-inflammatory and multi-potent based on our data using experimental autoimmune encephalitis (EAE). Using green fluorescent donors, we documented that in addition to down regulation of autoimmunity, neural differentiation of these cells may occur in vivo. Based on these observations our preliminary results of a phase I/II open clinical trial using autologous bone marrow derived MSCs in patients with severe MS failing conventional modalities suggested that treatment with MSCs is feasible, safe and potentially effective. No major side effect were developed or reported during a follow up period of nearly 4 years. Based on our successful preliminary pilot study in 13 patients with MS and 14 with ALS, a total of >350 patients were similarly treated at our center, mostly patients with MS, ALS administered 106 MSC/Kg intrathecally and additional 0.5 - 1x106/Kg intravenously. The treatment was uneventful with headache due to lumbar puncture being the most frequent complaint (70%) and self-limited subfebrile temperature in 25% and no serious side effect. A total of 60 % of patients reported improved outcome, in some with very significant objective improvement of EDSS score. More recently, we have investigating new technologies for differentiation of bone marrow, adipose tissue and cord/placenta derived MSCs into neural stem cells, oligodendrocytes, astrocytes and motor neurons. We conclude that treatment with MSCs may slow disease progression, improve the clinical condition and occasionally reverse some neurological deficits, especially for patients with neuroinflammatory disorders with possible re-iduction of self tolerance in patients with autoimmune diseases. Future goal remains to investigate if treatment with differentiated MSCs will be more effective for induction of remyelination and repair of neurological deficits in patients with neuroinflammatory and neurodegenerative disorders. Pre-clinical animal models currently to confirm our working hyposthesis.