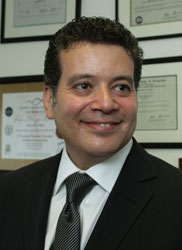 Mr Sherif Sultan
MB BCh MCh MD FRCSI DEVS FISVS FASA DMD FRCS-Vasc EBQS - VASC FAARM FACS Consultant Vascular & Endovascular Surgeon Honorary Senior Lecturer Department of Vascular & Endovascular Surgery, University College Hospital Galway, Ireland
Mr Sherif Sultan boasts over twenty four years of vascular experience. Upon obtaining his medical degree from the Ain Shams University in 1987, he was first specialized in general and vascular surgery were he completed a master degree in surgery in 1991, then worked solely in vascular surgery. He had his MD and awarded his FRCS in Dublin 1995. He had a pectoral fellowship from Arizona Heart Institute in 1997, followed by a Diploma in Endovascular Surgery from University of Paris XII in 1998. He joined the vascular team at St James's hospital and Trinity College Dublin and contributed to the development of the Endovascular surgery programme.
He achieved his Intercollegiate FRCS in vascular surgery in March 2001 in London and has been certified with European Board of Vascular Surgery in September 2001 in Lucerne Switzerland. He was awarded the American board of Anti Aging and Regenerative Medicine in Florida. Finally, Mr. Sultan settled down in Galway in 2001 to focus exclusively on vascular and endovascular surgery delivery and development of the vascular services.
Mr Sultan is one of the pioneers of minimally invasive endovascular techniques. He established strong international reputation with over 53 international peer-reviewed papers, book chapters, more than 250 abstracts, in excess of 200 international presentations, and over 270 national presentations. His prolific research portfolio has been recognised by 22 international awards in the last five years. Recently the National Institute of Health in the USA cited his seminal publication on the cost-effectiveness of endovascular aortic repair as one of the most ground-breaking publications in this field in the last decade.
In 2002 Mr Sultan founded the Western Vascular Institute, a charitable research foundation committed to vascular research, technical innovation, professional and public education. He was elected as the chairman. In 2007, he established the endovascular master's programme in collaboration with National University of Ireland Galway. He has long championed the need for translational research and has been the first to launch many of new medical devices in Europe and worldwide.
Mr Sultan runs a dedicated tailored Life guard programme that focus on prevention of cardiovascular morbidity and mortality. He specialises in stroke prevention with one day surgery for carotid artery intervention; abdominal aortic aneurysm rupture prevention and endovascular repair of abdominal aortic aneurysm, Wound care management for refractory chronic venous ulcers with hyperbaric medicine and lower limb revascularisation for which he has pioneered techniques that salvage limbs with critical ischaemia. In addition, he performs keyhole surgery for varicose veins as a six hour outpatient's admission.
He is dedicated to increasing public awareness of vascular disease as the number one global killer. When seconds matter, you can rest easy knowing that at his practice, he is ready to care for you. With state-of-the-art technology, vascular laboratory, veins unit, diagnostic and interventional capabilities, comprehensive programs, and on-going educational opportunities, he delivers the highest level of care to meet the needs of you and your loved ones.
Mr Sultan is a distinguished Fellow of the American College of Surgeons and President of the American Society of Angiology, Irish chapter. He is a fellow of society of vascular surgery, international society of vascular surgeons , member of association of vascular surgeon of Great Britain and Ireland and European Society of vascular and Endovascular Surgery.
2011 - Cardiovascular Antiaging Program: Contemporary Appraisal of UnKnown Unknowns.
Cardiovascular Anti-Aging programmes are the contemporary frontier in functional metabolic vascular medicine. This new era of metabolic vascular nutrigenomics harnesses our inherent ability to modulate the interface between specialised gene receptors and bioavailable nutrients in what's recently labelled as the nutrient-gene interactionIn addition, specific amino acids have been proven to play a vital role in cardiovascular anti-ageing and regeneration. L-Arginine has been shown to ameliorate blood vessel vasodilatation and augment myocardium and brain perfusion. It had established promise in the management of cardiovascular atherosclerotic disorders by reducing blood pressure, lowering LDL cholesterol and reversing plaque maturity. L Arginine is being labelled as the most procured amino acid for any cardiovascular antiaging programme.
Major studies of "cardiovascular free" centenarians delineated that low sugar and low insulin are consistent finding in such individuals. The level of insulin sensitivity of the cell is one of the most crucial markers of lifespan. Insulin is a catabolic inflammatory hormone in the body and a pro-aging reversible factor. As we age, our insulin level increases. Those who can decelerate the rapidity of this process are prompting their cardiovascular anti-aging.
Metabolic or Insulin resistance Syndrome affects over 60 million Americans and one in four adults over the age of 35. Those who are in the sub-clinical phase "age 35-45" and clinical phase of aging "age 45 and above" have a one in three chance of getting this syndrome and not knowing it.
More over, the contemporary management of type 2 diabetics has been subject to scrutiny and potentially raises some ethical dilemmas. Although the patient might appear to have a need for insulin therapy, the introduction of insulin in the context of severe insulin resistance may lead to hyperinsulinaemia and consequently accelerate their metabolic vascular derangement, resulting in high morbidity and mortality! Conversely, Metformin is a pro antiaging agent that can oppress 80 % of all type 2 DM.
Right now diabetics can be cured through nutrigenomics and with close attention to metabolic vascular intermediaries patients can be weaned off their medication. In addition, in the context of the deranged metabolic milieu that exists for diabetic patients, they fair poorly with beta blockers, diuretics and statins and may require doubling the dose of potent antiplatelets to achieve a therapeutic effect.
Statins manipulate glucose metabolism as a consequence of its inhibitory effects on adipocytes by means of inducing insulin resistance through reduction in insulin-stimulated glucose uptake with a strong impact on glycaemic control in non obese patients. The poise of use of statin and clear upshot is dogged by the patient metabolic conditions and whether statin could amend or impairs insulin resistance and ultimately Type 2 DM.
Beta blockers, Flouroquinolones, Phenothiazines and Thiazide diuretics stall insulin secretion through diverse modalities but Aspirin, MAO inhibitors and methyltestosterone boost the action of Insulin and can lower blood glucose levels to a precarious level. Overseeing such patient's commands particularized expertise of drug interaction and proficient confidence in adjusting patient medications as some of these patients are able to go off insulin utterly by altering concomitant medications that have an adversative upshot on insulin metabolism .
The ARIC study verified that patients indulged with Beta blockers have a 28% higher risk of developing type 2 DM.54This was further scrutinised in the CAPPP trial55 and LIFE56 study for which both established that Beta blockers have a 25 % chance of developing Type 2 DM in non diabetic patients
We must gaze at sugar as a drug and dwell as far away as possible from its consumption. It is more treacherous than smoking and hypercholeosteremia combined. Insulin resistance and hyperglycaemia are culprits in the development vascular diseases in two thirds of the population. However, this can be reversed through Cardiovascular Anti-Aging programmes.
We must promote cardio-vascular antiaging programmes, which consist of achievable lifestyle adjustments with caloric restriction , 12 hours fasting from 6pm to 6 am, 30 minutes daily endurance exercise and the afro-mentioned nutrigenomics.
These are methods and techniques that we must master in our present and future practice. The Cardio-vascular community must expand on its history of revolution and redeem ourselves from the effortless fashion of prescription cardiovascular drugs or ingenuous vascular intervention.