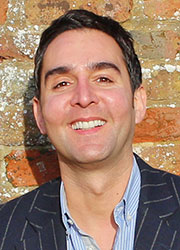 Mr Miguel Toribio-Mateas
A leader in his field, Miguel is a Nutrition Health Professional and Nutrition Science Researcher / Lecturer with postgraduate education in Systems Complexity, Nutritional Medicine and Clinical Neuroscience. Miguel is Board Certified in Anti-Ageing, Functional and Regenerative Nutrition (ABAAHP) and practises Personalised Nutrition. His background in research technology and scientific publishing, working with the medical, academic & scientific research communities worldwide that spans back to the late-90s. Miguel is the Chairman of the British Association for Applied Nutrition and Nutritional Therapy, BANT
2015 - Growing a Younger, More Resilient Brain: Nutritional & Lifestyle Strategies for Enhanced Neuroplasticity
We can grow stronger, more 'resilient' brains by feeding it the right nutrients. Equally, the brain and the rest of the nervous system can suffer as a result of nutrient inadequacies. The role of "non-nutrient nutrients" such as phenolic compounds of plant origin such as resveratrol, astaxanthin and pine bark extract as enhancers of synaptic plasticity and not merely as antioxidants with an affinity with brain tissue will be discussed. The old "eat a rainbow" moto takes a completely new meaning as brightly coloured pigments are proposed as therapeutic aids that promote brain health and can even mitigate the damaging effects of neurodegeneration. Nutritional interventions are complemented by Heart Rate Variability (HRV) modulating techniques that are easy to implement and that are as valuable, as dietary modifications. Toribio-Mateas will discuss how the combination of a colourful, mostly plant-based diet and HRV training could be one of the keys to increased neuroplasticity, and to a younger brain for life.
2015 - Skin Ageing. Is it all in the head? The Brain-Skin-Axis
Communication between the mind and the skin involves a complex biochemical interplay between the psycho-immuno-endocrine-cutaneous system, encompassing the activities of the brain, the immune system and the skin, with the participation of different neuropeptides, interleukins, and immune system messengers. Many of the common dermatologic diseases seen regularly in our clinics, as well as premature skin ageing, are triggered and intensified by emotional stressors, either acute or chronic. These psychomediating pathogenetic factors are responsible for the hyperactivation of the hypothalamic-pituitary-adrenal axis (HPAA) and the resulting neuro-immuno-endocrine cascade of pro-inflammatory cytokines and mediators involved in the pathogenesis of skin disease and ageing.