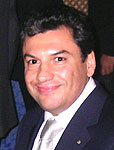 Professor Matteo Tutino MD
Creator & Founder of Modus, a all Hydroquinone-Free Controlled pH Skin Care System.
Professor Matteo Tutino is Assisstant Professor in Plastic and Craniofacial Surgery at the department of ENT University of Palermo Italy.
He is head of the Cranio-Maxillofacial Clinic at the department of ENT University of Palermo.
Consultant of the Plastic and Craniofacial, hospital S.Elia, Caltanissetta.
Professor Tutino has authored many publications and lectures throughout the world, from Italy to the USA, Mexico and Europe.
2008 - WORKSHOP - Cause of Hyperpigmentation and its treatment : How it is possible to achieve healthy skin using organic botanical ingredients
During recent years, diverse methods for achieving healthy skin and treating acne, melasma and aging have been presented worldwide, different active natural ingredients have been studied to achieve the best clinical results without major complication and with the highest compliance for the patients. It is known, that hydroquinone is a forbidden substance in Europe and Asia as it has been demonstrated, despite its efficacy in treating hyperpigmention, it is extremely toxic in that if it penetrates below the outer layer into the dermis it causes collagen fibres to thicken, leading to possibly irreversible damage to the connective tissue in skin cartilage and premature aging. Furthermore, recent literature demonstrates it possesses carcinogenic effects.
Our group has developed a new, patented hydroquinone-free system based on the use of natural products which are non-toxic and can be used for anti-aging, and for the treatment of post inflammatory hyperpigmentation and melasma. Moreover, the products used contain substances, which repair damaged DNA and stimulate collagen and elastin production giving the skin smoothness, tone, luminosity and even colour.
Material and methods
50 patients have been treated from the period of January 2003 to the present. The system includes: an astringent, a 14.2% vitamin C serum (L-ascorbic acid), a colour balancing hydroquinone-free cream, an exfoliating cream and a cell renewal cream in conjunction with Melatonin cream.
The patients, after having undergone a general medical and skin examination, were given the above cosmetic products and received clear instructions on their use according to the patient's skin type .The patients were not told to avoid sun exposure, however they were told to use a sun screen and vitamin C serum before and after the exposure. The initial treatment lasted 3 to 6 months. Once the desired results were achieved, the patients were put on a maintenance programme. Some patients, after the initial treatment, had to also undergo a Rf/ cold temperature thermage. All patients were monitored on a weekly basis.
Results
All patients said that they found the system to be efficacious and easy. We did not have any cases of post-inflammatory hyperpigmention, major complications, scars, nor product intolerance among our patients. Skin colour was even including the area surrounding the eye in 100% of the cases. In subjects affected by dermal melasma, the colour alterations by the end of the initial treatment was insignificant.
Conclusions
This new system for achieving skin health can be used in both medical and invasivel procedures. It is efficacious as an anti-aging programme and in the treatment of the different type of melasma, P.I.H., or paradox hyperpigmentation. It also has shown to enhance collagen production, reduce dilated pores and in inhibit oil production of the skin.