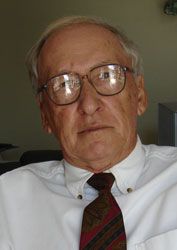 Richard F Walker PhD RPh
Richard F. Walker, Ph.D, R.Ph received a BS in pharmacy from Rutgers University, a MS in Biochemistry from New Mexico State University and a PhD in a physiology from Rutgers University. He completed an internship in neuroanatomy at Emory University College of Medicine, and postdoctoral fellowships in neuroendocrinology and neuropharmacology at Duke University College of Medicine (Center for the Study of Aging and Human Development) and the University of California, Berkeley, respectively. Dr. Walker held tenured faculty positions at Clemson University (Department of Zoology) and at the University of Kentucky College of Medicine (Department of Anatomy and Molecular Biology/Sanders-Brown Research Center on Aging). He left academia for a brief hiatus in the pharmaceutical industry serving as Director of Toxicology at SmithKline Beecham Pharmaceutical Corp. At the same time he was also research professor in the Department of Pharmacology at the Medical College of Pennsylvania and later at the University of South Florida (USF). In addition to his research duties at USF, Walker served as Director of Research Compliance and also Director of USF CARES (Clinical Alliance for Research, Education and Service). He has been the recipient of many federal (NSF, NIH, DOD), state and local research grants and has published extensively in his field of interest which is primarily directed towards understanding the cause of senescence and treating functional deficits associated with organismal aging. Walker is currently Editor-in-Chief of Clinical Interventions in Aging, a source of evidence-based information for practitioners of age-management medicine published by Dove Medical Press (Auckland and London). He is also heads a private consulting company providing regulatory and scientific services for physicians and other health-care professionals.
2012 - Sermorelin and Age-Related Growth Hormone Insufficiency
While there is a wealth of information showing that long-term administration of recombinant human growth hormone (rhGH) reduces intrinsic disease and extends life in adults suffering pathogenic growth hormone deficiency (GHD), consensus on whether extrapolation of those data to the aging condition is justified has not been reached (1). Despite the eventual outcome to the "Great Hormone Debate" as it has been titled in media articles (2), certain negative aspects of GHRT using rhGH cannot be disputed and justify searching for a better alternative.. For example, "square wave" or pharmacological presentation of the exogenous hormone cannot be avoided since it is administered as a bolus, subcutaneous injection. Since the amount of rhGH entering the general circulation is not controlled by normal feedback mechanisms, tissue exposure to elevated concentrations is persistent and eventually may lead to side effects, tachyphylaxis and reduced efficacy. Also, because the body cannot modulate tissue exposure to rhGH, the practitioner is required to "best guess" the appropriate dosage based upon little other than serum measurements of IGF-1 and subjective comments from the patient about perceived responses to the hormone. Thus, it would seem that an alternative method of GHRT that circumvents these problems would be of great value so long as it retained the positive attributes of rhGH.
One possibility that is receiving growing attention is the use of growth hormone releasing factor 1-29 NH2-acetate or sermorelin which is currently available to practitioners for use in anti-aging medicine (3). Sermorelin which is an analog of naturally occurring GH releasing hormone (GHRH) whose activity declines during aging may presently offer a more immediate and better alternative to rhGH for GHRT in aging (4). Unlike exogenous rhGH that directly stimulates hepatic production of IGF-1, sermorelin stimulates the patient's own pituitary gland by binding specific receptors to increase production and secretion of endogenous hGH. Because sermorelin increases endogenous hGH by stimulating the pituitary gland when administered parenterally or sublingually, it has certain physiological and clinical advantages over hGH. Also, unlike rhGH which has legal restrictions on its clinical use, the off label prescribing of sermorelin is not prohibited by federal law.
Thus, the specific objective of this presentation is to compare and contrast the qualities of rhGH and sermorelin in opposing age-related GH insufficiency.
Literature Cited
1. Perls, T.T., Reisman, N.R., & Olshansky, SJ.: Provision and distribution of growth hormone for "antiaging:" Clinical and legal issues. Journal of the American Medical Association, 294:16, 2086-2090, 2005.
2. Landsmann MA: Forever Young? What role does human growth hormone play in the aging process. The question is rife with controversy. Advance for Healthy Aging. 2(1):54-61 May/June, 2006.
3. Merriam GR, Barness S, Buchner D, Kletke M, Larsen LH, Moe KE, Schwartz RS, Vitiello, MV: Growth hormone releasing hormone treatment in normal aging. J Anti-Aging Med. 4(4):331-343, 2001
4. Walker RF: Sermorelin: A better approach to management of adult-onset growth hormone insufficiency? Clinical Interventions in Aging 1(4): 1-2 (2006)